Podcast: All Aboard
17-Aug-2017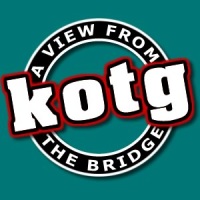 No fewer than 6 different Belfast Giants and a couple of hockey legends join us on the latest A View From The Bridge!
Jim Vandermeer talks to Patrick about his reasons for returning to Belfast.
Simon heads down to training to catch up with the lads as they take to the ice for the first time and he chats to Adam Keefe about how pre-season is panning out.
UK Hockey Legend, David Longstaff, tells us what we should expect from the Guildford Flames and he also talks about the state of hockey in the North East of England.
We have a very special interview with Giants Legend Mark Morrison and his daughter Kaitlyn as she embarks on a very exciting adventure.
The lads cast their eye over the latest signings and answer your Fan Agenda questions.
We also have news on the KOTG Player of the Season!
Phew.... its a big one!
Listen via the web player - CLICK HERE
Or we are also available on iTunes! - Subscribe here for FREE and never miss a show!