A four point weekend for the Belfast Giants as Adam Keefe's side travelled to Scotland. Victories over the Dundee Stars on Saturday, then a Darcy Murphy hat-trick  put the Fife Flyers to the sword on Sunday. 
You can check out our game reports, interviews and available highlights by clicking the links above, but in the meantime, Ryan Donaldson shares his thoughts having attended both games.
The phrase 'Four Point Weekend' is undoubtedly one of the nicest collection of words to see appearing amongst the social media posts of the Belfast Giants on a Monday morning. It's even more impressive when knowing your team unequivocally deserved those points.
Previous season opening weekends in Scotland haven't always been kind to the boys in teal. The Gardiner Conference teams from Dundee and Fife still struggle to shake off their 'wee team' tag with many supporters from other teams around the league, as if a win should be routine against these teams.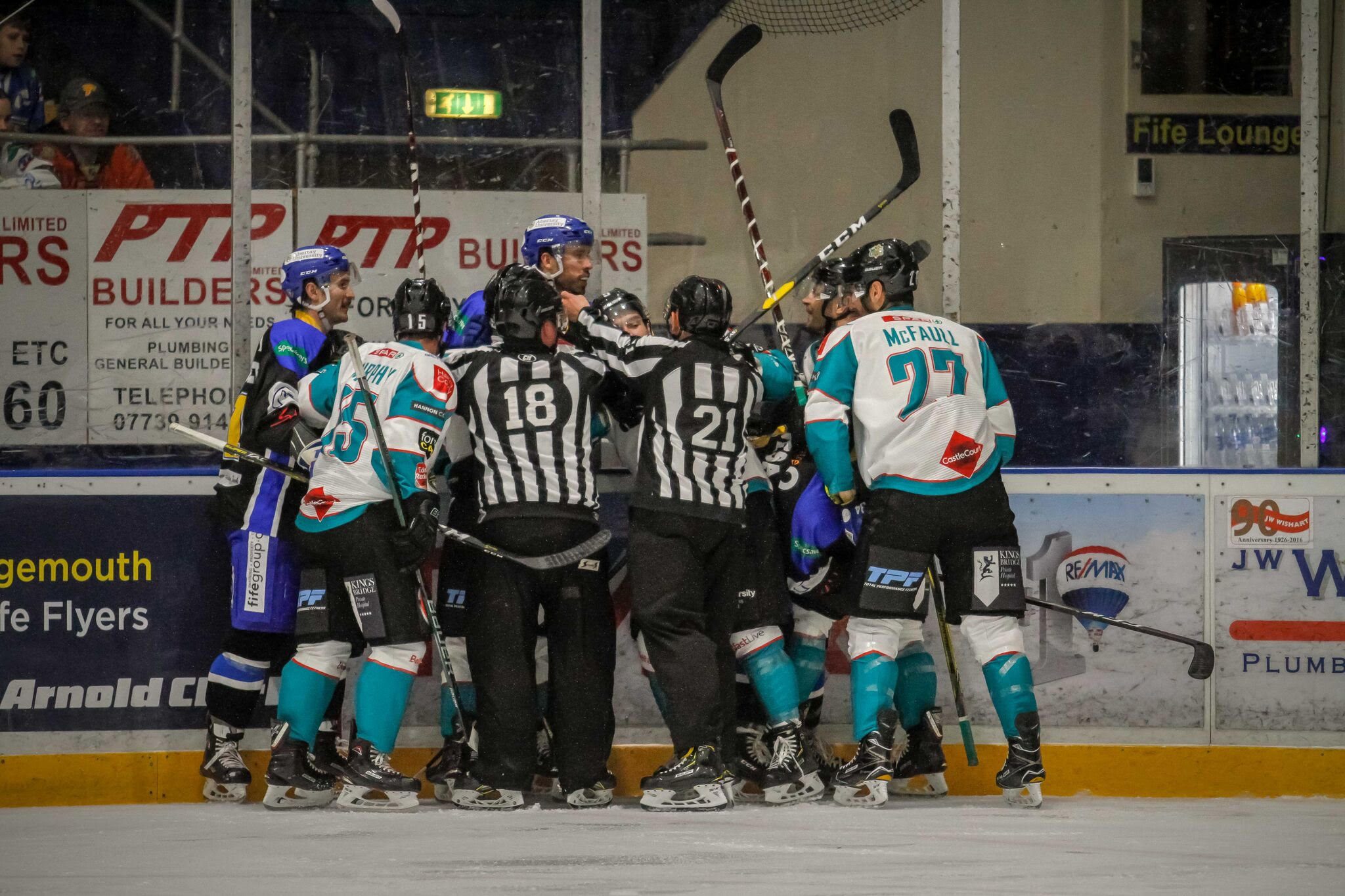 It rarely is.
Fife, especially, is possibly the most hostile of atmospheres to play hockey within the EIHL, and again they have recruited well. The likes of Bloodoff, Crowder and Cazzola would grace any roster in this league. And Dundee, under Pacha and previously LeFevre, are notoriously a side who 'never say die' and who more often than not, pull us into a slugfest of a contest, often ending in OT and the lottery of penalties.
However, this is a new look Giants, wanted to begin the defence of their Challenge Cup Winners crown strongly. And thanks to Adam Keefe's preparation, the weekend went relatively routinely. The Giants rarely looked particularly troubled over the two games bar a late scrappy powerplay in the game against the Flyers.
To a man, EVERYONE performed. There were no passengers on this trip. Patrick Dwyer is the real deal. Puck on a string, and vision that hopefully the rest of the team can keep up with. Francis Beauvillier and Jonathan Ferland are a wrecking crew, but with skills to boot. There is no fear of getting physical, with both Curtis Leonard and the returning Jonathan Boxill willing to drop the gloves for their team. David Rutherford was as tenacious as ever and fully deserved a spot on the scoresheet to whet his appetite for more. The roster has grown in stature too – Jim Vandermeer no longer stands out on the ice due to his size, with the likes of Kendal McFaull and Paul Swindlehurst standing tall on our blue line. Chemistry is beginning to show with Hook, Johner and Baun looking a very industrious combination. The amount of ice Josh Roach covered, you'd have been forgiven for thinking there was two of him. And then there is Mr Beskorowany. His stock keeps on rising. He made two saves in particular in the DIA that drew Giants fans to their feet in appreciation – a flashed glove save, and a point blank shot from a scramble. He is a big unit, filling the net, but moving fantastically smoothly and quickly. He can be the rock upon which title challenges can be built.
It's hard to pick any standouts, when every man stood tall, but Darcy Murphy deserves special credit. A complete weekend. Murphy was impressive not just for his goals, but his all round game. He did things he's not renowned for. He was physical, he laid hits and he was around the blue paint screening the opposition goalie. He took his goals, especially his shorthanded marker, well. Hats off!
All in all – complete team buy in, and a very impressive opening weekend to build on. (And not a single 10min misconduct penalty all weekend). Excited yet? Let's not forget we still have Hunter Bishop and Blair Riley to add into this mix.
Hang on tight Giants fans, this team has the potential to be special.
---
Words: Ryan Donaldson
Pictures: Derek Black, Jillian McFarlane
Ryan got in touch with us to share his thoughts by e-mailing us a KotG. If you'd like to get involved, please just drop us a line at articles@kingdomofthegiants.com . We want to be your platform for Belfast Giants and Hockey opinions.
A site by the fans for the fans.