---
PLEASE NOTE: This page does not auto-refresh.
---
21:28- The UNION COLLEGE DUTCHMEN are your 2018 Friendship Four Champions. An INCREDIBLE final minute of play.
---
20:53- This is it! The third and final period is underway, Union hold on to a 2-1 lead over the BU Terriers… who will ring the Belpot in 2018!?
---
19:58- Before the second period gets underway let's hear from 2 goal Yale Forward #17 Kevin O'Neil following his side's win over UConn in today's afternoon game.
---
19:45- A few photos from the first period courtesy of William Cherry: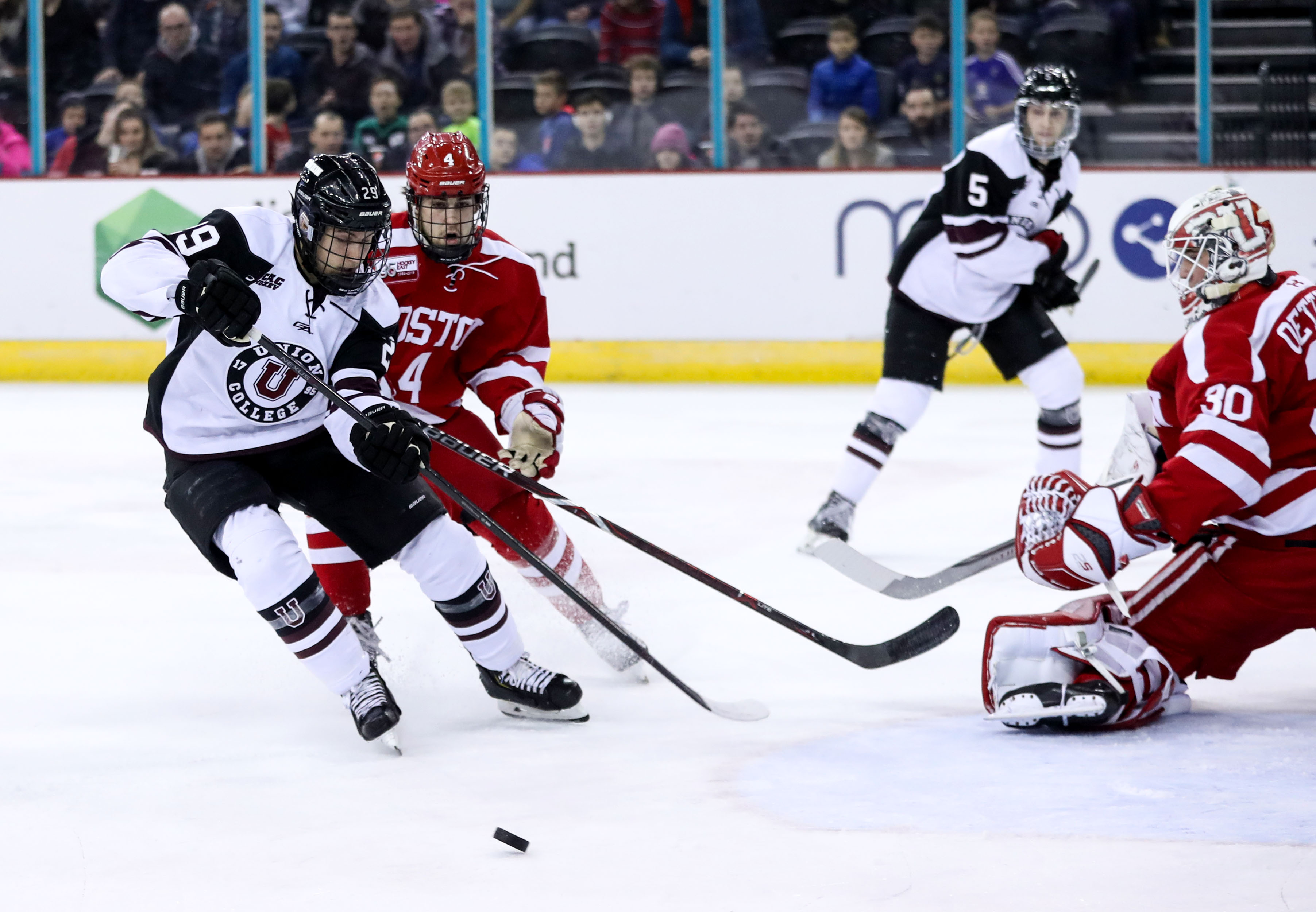 ---
19:42- A FRANTIC first period comes to a close with Union on the penalty kill. The grand final of the 2018 Friendship Four is all tied up at 1.
---
19:40- GOOOAAAL BU! The Terriers level the scoring within the last minute of play. #3 Ty Amonte with the unassisted marker at 19:21. 1-1
---
19:30- BU end their power play and go straight on the kill as #4 David Farrance takes 2 minutes for cross checking at 13.54
---
19:26- GOAL UNION! Brett Supinsky redirects an Anthony Rinaldi clapper into the BU goal, and the Dutchmen take the 1-0 lead.
BU go on the Power Play immediately after as Josh Kosack sits for elbowing. What a game so far!
---
19:19– BU takes the first penalty of the night, #11 Patrick Curry sits for elbowing. Union's PP unit takes to the ice.
---
19:11- During tonight's period breaks we'll bring you post game reaction from today's thrilling first game between Yale and UConn.
---
19:09- The 2018 Friendship Four final between Union and Boston University is underway! Who will ring the Belpot in front of a packed SSE Arena? Keep it here!
---
17:44- That's it for game one of the day- a close contest between Yale and UConn was blown open late in the third- 3-6 Yale your final score.
---
17:09- A Yale goal is waved off after review due to tender interference. The Huskies catch a break during a period of pressure. Still 2-4 Yale.
---
17:07- GOAAAAL YALE! We are a minute and a half into the third period and the Bulldogs have put some breathing room into this game. An unassisted Kevin O'Neil the scorer. His second of the game. 2-4 Yale.
---
16:45– That's all for the second period here at the SSE. This game has exploded into life, Yale now holding on to the 1 goal lead at 3-2. Big third period coming right up!
---
16:29- GOAAAAAL YALE! The Bulldogs respond after dragging UConn goaltender Tomas Vomacka out left and pulling it back into the slot. Scorer- #17 Kevin O'Neil, assisted by #7 Joe Snively at 31.15) It's 2-3 Yale!
---
16:25- GOAAAL UCONN! This one is far from over. The Huskies respond through #9 Alexander Payusov, helpers from #10 Miles Gendron and #16 Karl El-Mir at 28.17. 2-2
---
16:13- GOAAAAL YALE! The Bulldogs have taken control five minutes into the second period thanks to #26 Brett Jewell, assisted by #18 Justin Pearson and #12 Dante Palecco at 24.57. 1-2
---
16:05- GOOOAAAL! Right off the draw for the second period the Yale Bulldogs strike back through #27 Luke Stevens, assisted by #13 Evan Smith and #2 Jack St. Ivany at 20.16. Game on! 1-1.
---
15:45- That's going to do it for a feisty first period of action here at the SSE. The UConn Huskies with a narrow 1-0 lead over the Yale Bulldogs. Second period coming up soon!
---
15:40- Miles Gendron drags across the front of goal and snipes bottom left corner to put the Huskies 1-0 up, helpers from Carter Turnbull and Ruslan Iskhakov at 18.11
---
15:28- Neither team showing mercy here in this early game. Intensity, physicality… and PENALTIES.  Yale currently weathering a 5 on 3.
---
15:00- Yale and UConn have taken to the ice, it's GAME TIME!
---
12:03 – Want to spend the next 3 hours catching up on yesterdays games… well why not.. here you go.
Union College v Yale University
Boston University v University of Connecticut
---
12:02 –  Joel also had the chance to catch up wit the Athletics Director of Boston University, Drew Marrochello about the Terriers experiences in the F4.
---
12:01 – Lets Have a look back at some of the interviews from yesterdays games.
---
12:00 – What a day yesterday was, two magnicifcent games in the 2018 Friendship Four that has led us to todays match ups.
3pm – Yale Bulldogs v UConn Huskies
7pm – Union College Dutchmen v Boston University Terriers – BelPot Final
---