I have to preface any coverage this weekend by saying that Noel Gillespie's weekend preview of the three teams visiting Belfast for the final of the 2019 Continental Cup is about as in depth and comprehensive as you'll find. Essential reading. Check it out here.
---
---
Kazakhstan side Arlan Kokshetau, in the Continental Cup by merit of their first domestic Championship last season, are newcomers to Belfast for game 1 of 6 this weekend.
Facing them, a side very recently acquainted with the SSE Arena and the Belfast Giants- having gone to war against Adam Keefe's men in the last round of the tournament. Poland's GKS Katowice, and their raucous fans, are back in town.
The first period, however, did not go their way.
Arlan, stacked with former KHLers, barely left second gear as they ran up a three goal lead without reply.
Their first came courtesy of #63 Konstantin Savenkov at 11.44, (0-1) before two successive Power Play markers at 14.13 (Stanislav Borovikov) (0-2) and 18.00 (Dmitri Potaichuk). (0-3)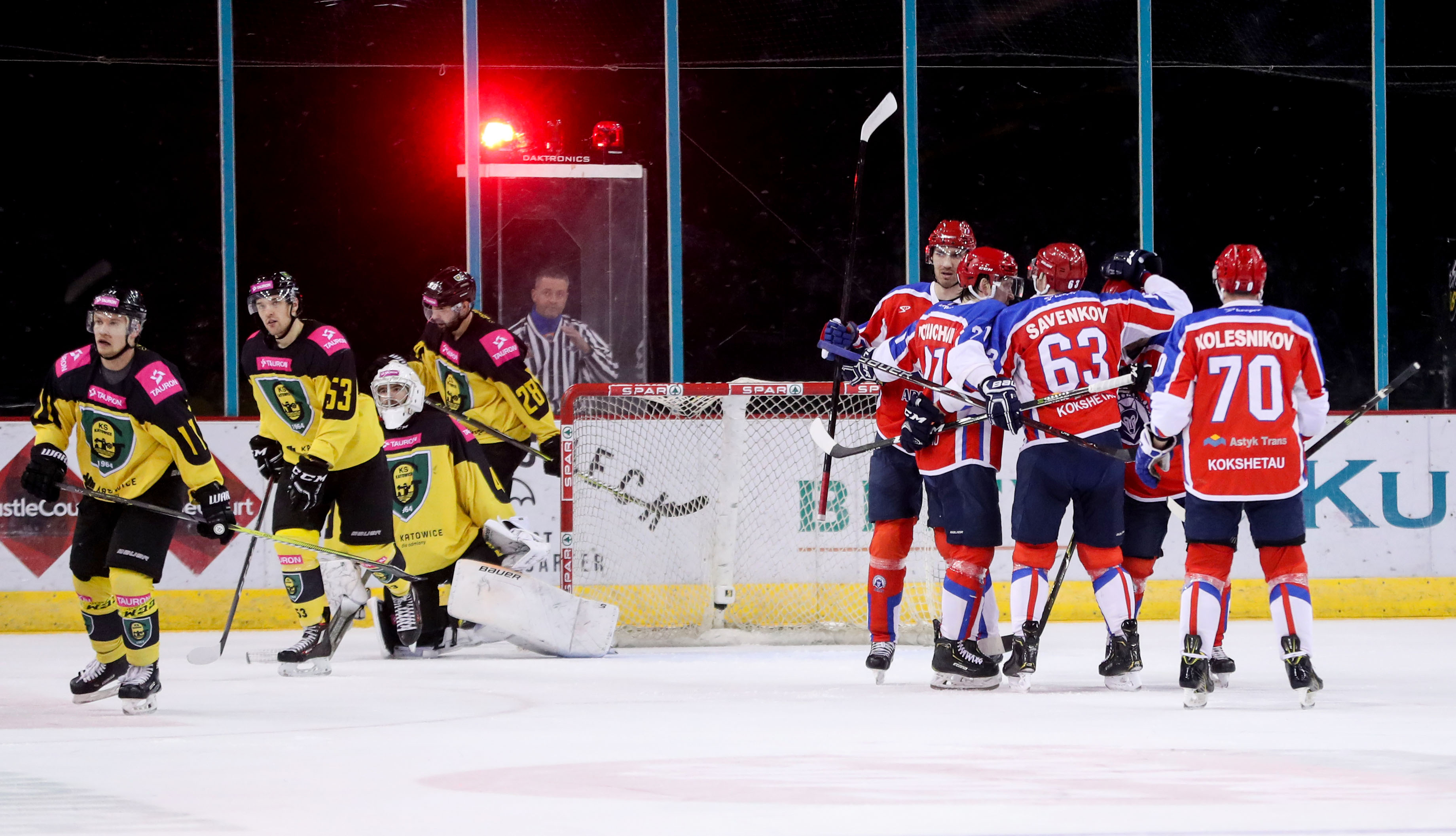 For the small Friday afternoon crowd of Giants fans in attendance, it was a scary sight to see a team who were victorious over Belfast in a classic just two months ago get so thoroughly dominated. Even scarier still that Arlan didn't appear to have left 2nd gear.
The break was a welcome one for Tom Coolen's Polish side, and they re-emerged for the second period with resolve.
A 5 on 3 Power Play (Gasnikov holding, 22.50 and Berdnikov tripping moments later) provided an absolutely vital opportunity for GKS to make a mark on the game, and it was taken with aplomb when Niko Tuhkanen lasered the puck home from the mid slot at 23.40. (1-3)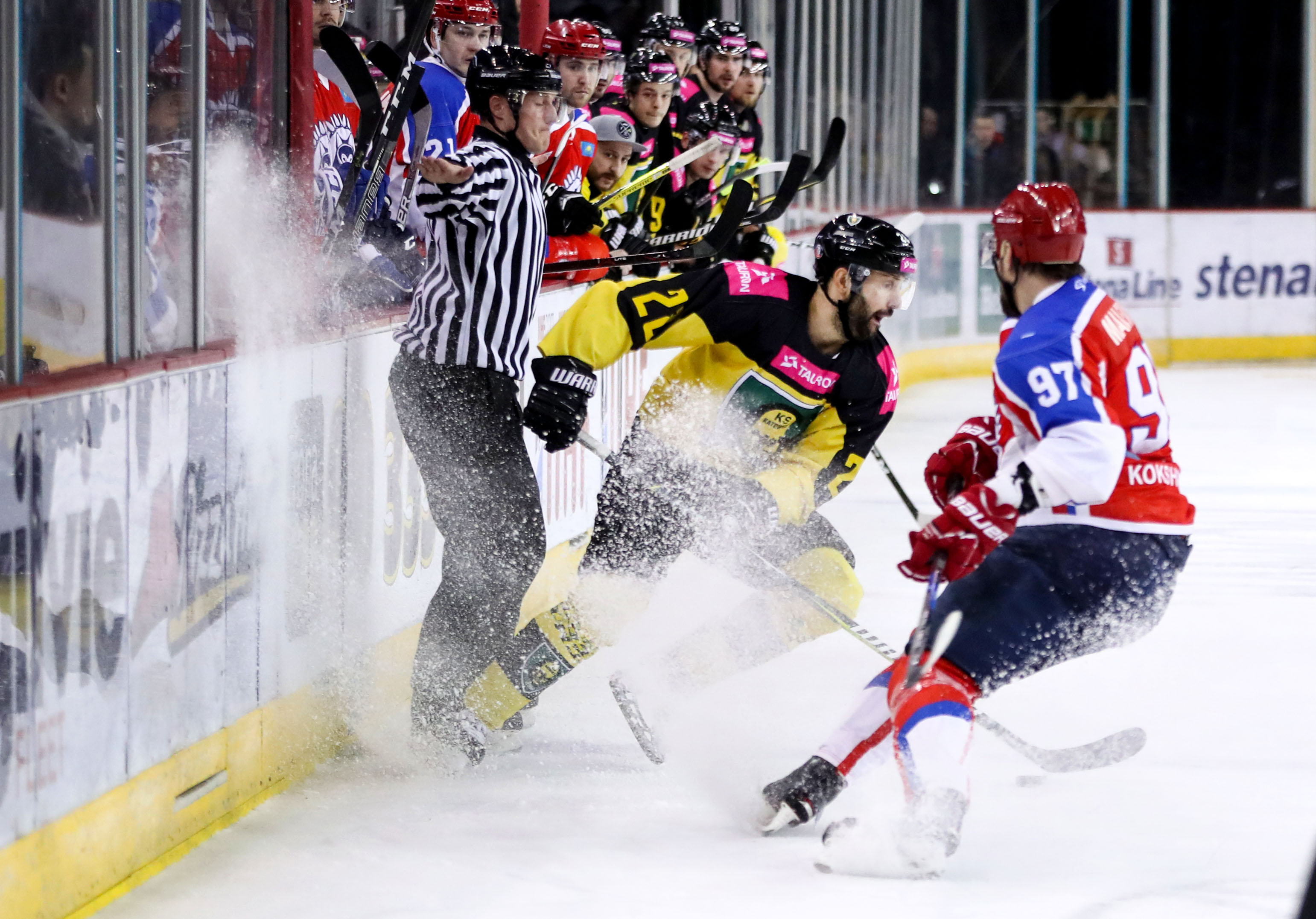 This seemed to ignite Katowice, who continued to press even strength until Jesse Rohtla skated solo into the Arlan zone and fired top left on the backhand to send the Polish fans wild. (2-3)
Suddenly, surprisingly, it was game on.
The third period was a high tempo, urgent affair from the off. GKS were given a Power Play opportunity at 42.07 when Arlen #9 Yermolayev cross checked Dusan Devecka into the east end boards- his knee jamming awkwardly and requiring trainer's assistance off the ice.
Katowice's puck cycle and movement on the power play was lightning fast and thrillingly precise, but two minutes seemed to pass in the blink of an eye and the polish side failed to convert.
Another Power Play attempt for GKS (high sticking 47min) was cancelled out by a concurrent penalty (tripping 48 min) and both sides entered a nervy final ten minutes with a sense of urgency.
A GKS lapse on a line change was to prove fatal as Arlan pounced, with Nesterov skating the puck unchallenged from the right wing and playing a beautiful one-two-three with Klemeshov in front of the crease, who buried the puck past GKS tender Kevin Lindskoug. (2-4)
Katowice HC Tom Coolen pulled his goaltender with two minutes and change left, taking a time-out shortly after to draw up an offensive plan, but the deficit was too much and time expired with Arlan Kokshetau introducing themselves to Belfast in a big way.
_________________________________________________________________________________
Words: Joel Neill
Images: William Cherry / Press Eye