The Glasgow Clan's mini break in Belfast continued tonight, as the sides met again at the SSE Arena- this time in League action.
The Clan, keen to overturn Thursday's Challenge Cup exit at the hands of Belfast, were without former Giant Craig Peacock.
Adam Keefe's side meanwhile were once again without Jonathan Ferland.
The roof almost came off the SSE Arena before a puck had even been dropped, as Belfast Giants legend Paxton Schulte was in town ahead of Monday's Stephen Murphy Testimonial.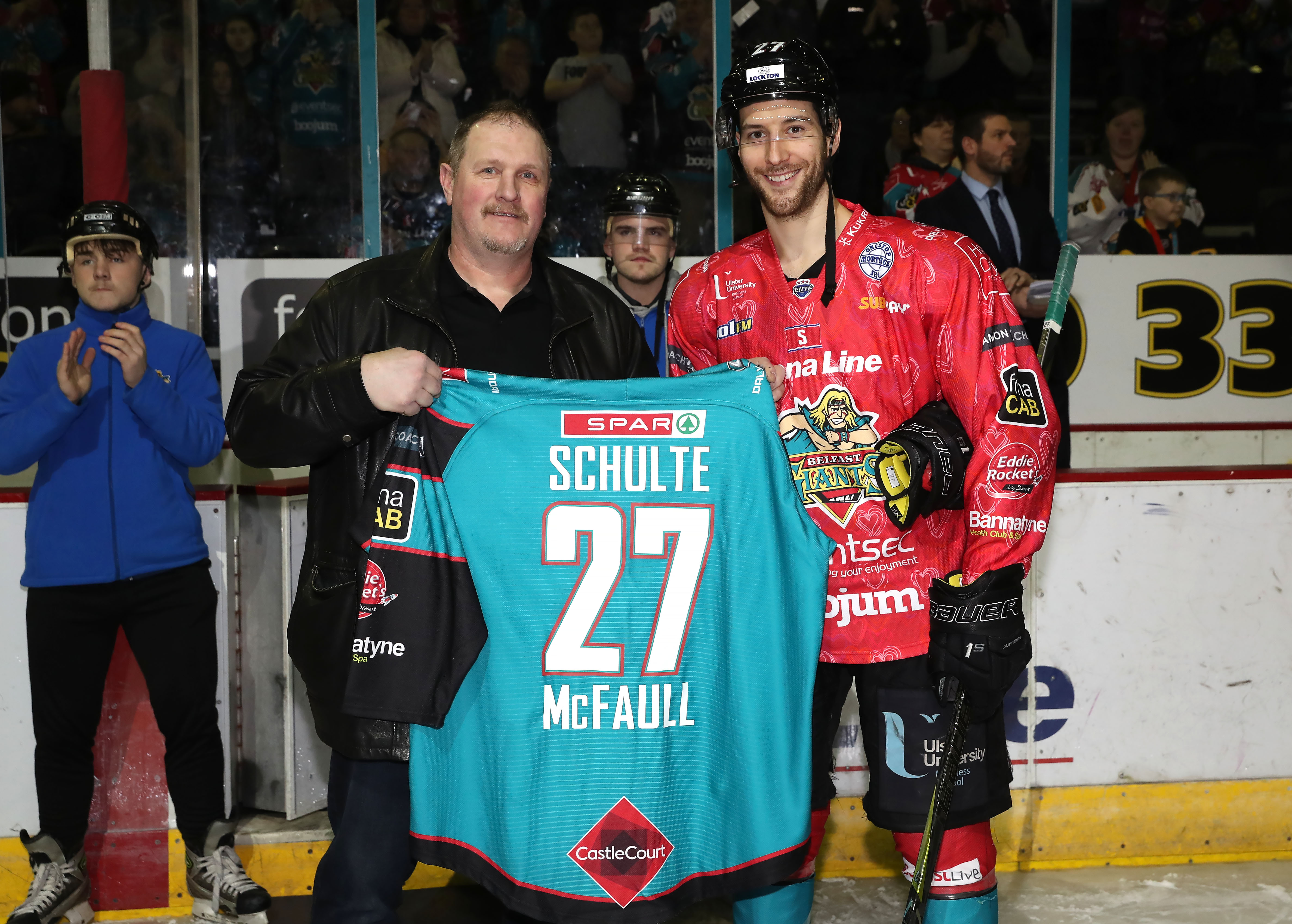 The Teal Army rose to their feet and removed their hats to welcome back an icon with a thunderous roar.
With formalities over, the Giants- tonight wearing special Valentines themed pink jerseys- once again pressed hard from the drop, and were rewarded with a power play with less than 30 seconds gone, as Zack Fitzgerald sat for holding.
Belfast's hot power play unit found the net almost immediately, as Patrick Dwyer laid the puck towards Kyle Baun, whose sublime back hand across the crease fell to Darcy Murphy- who utterly buried it past Rumpel just 44 seconds into the game. (1-0)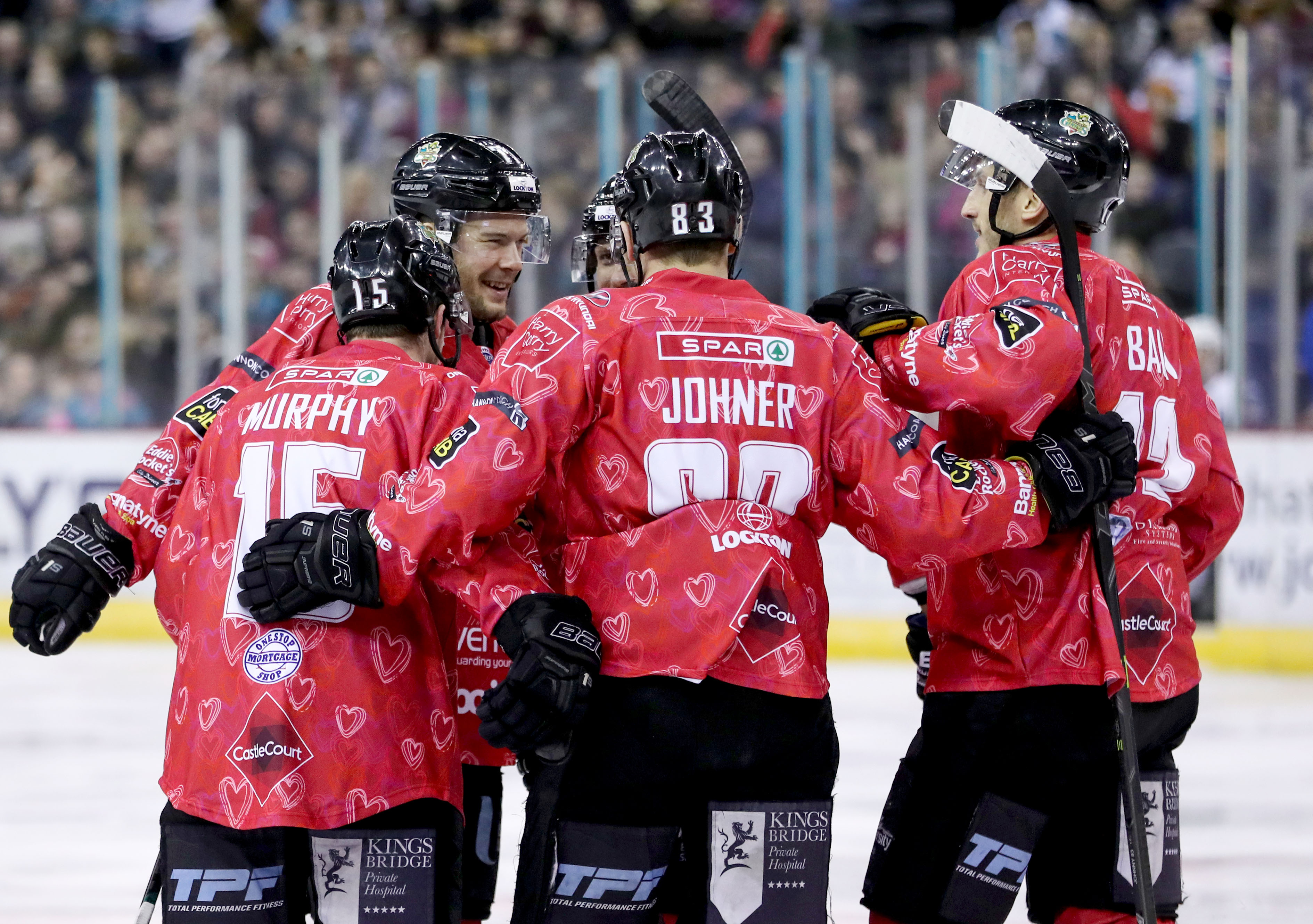 The Giants doubled their lead at 12.43, when Colin Shields skated onto a loose puck following a Joel Rumpel save, assisted by Dustin Johner and Darcy Murphy. (2-0)
Glasgow had their first power play of the game at 14.25, as Giants Captain Blair Riley sat for interference- however the home side's penalty kill unit stood strong.
The first period came to a close with Belfast outshooting Glasgow 11-8.
The Giants spent the opening minutes of the second period withstanding sustained pressure- their commitment to clearing the defensive zone was clear to see with a number of big blocks- most notably Jim Vandermeer.
Blair Riley extended the home side's lead at 26.40 with a beautiful wrister from the right circle which soared high blocker past Rumpel. Assist: Higgins (3-0)
Just under a minute later, Glasgow opened their scoring after a Tyler Beskorowany 5-hole save sat stationary in the crease and was picked up and tucked away by Jack Musil (Assist: Bjerrum, Sullivan) (3-1)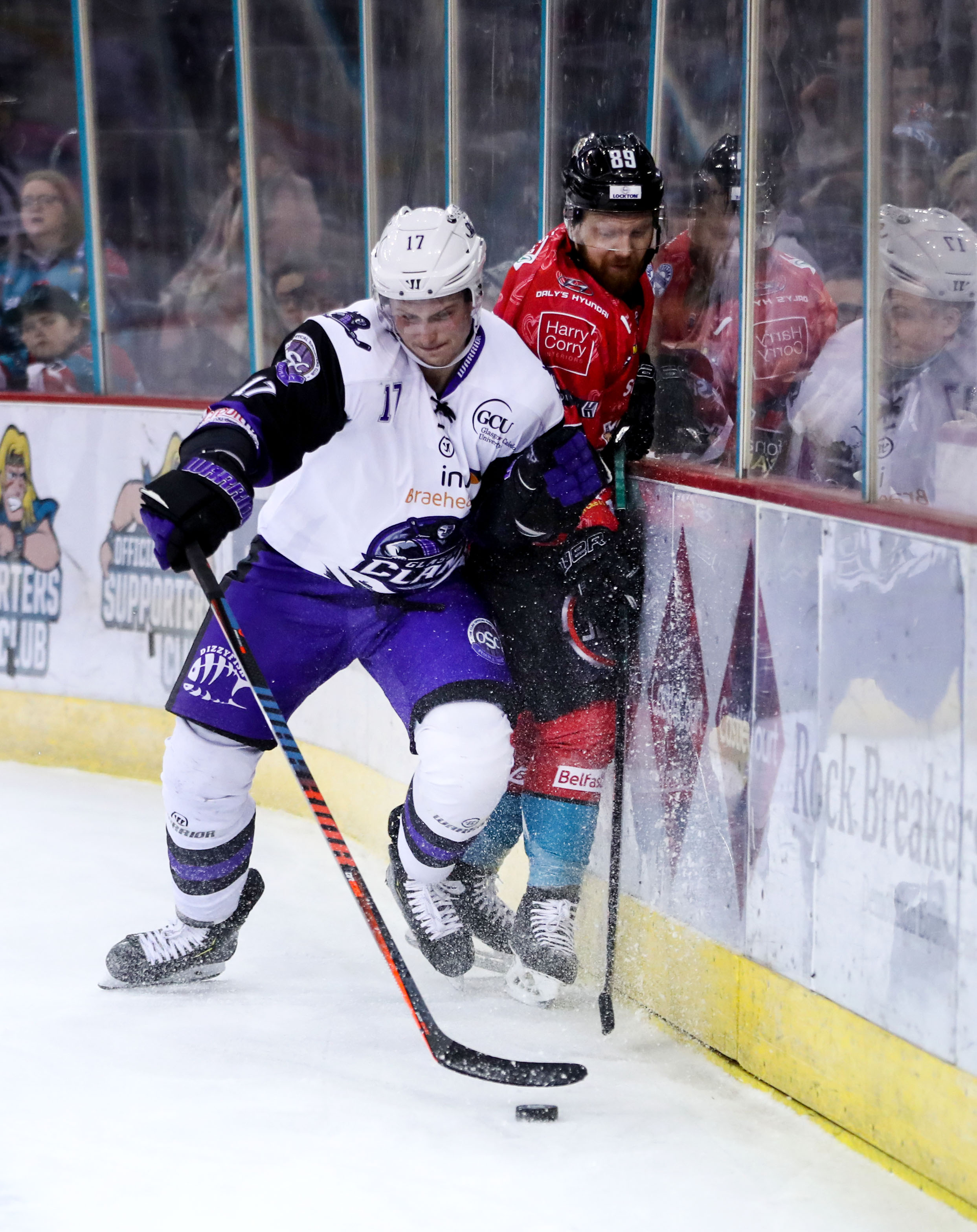 Glasgow had another power play opportunity at 34.01 when Chris Higgins headed to the penalty box for hooking.
Belfast's kill unit once again succeeded, pinning Glasgow deep in their own zone for the majority.
Glasgow certainly had more of a sense of urgency as the second period ended, but Belfast's commitment to clearing their zone served them well and it ended 3-1.
SOG after 2: Belfast 24-16
The Giants opened the third with a power play- as Stupka headed to the box for slashing with just over 30 seconds gone. The Giants struggled to set up in the Glasgow zone, and time expired.
With just under 15 minutes left in the game, Mark Garside was sent to the box for a tripping call. Glasgow wasted no time in setting up and cycling the zone, as Belfast's kill unit once again threw bodies down to block shots.
The game entered its final 10 minutes with neither side looking lethal- fragmented play and missed passes dominating the action.
Travis Erhardt sat for slashing at 52.36, and the Giants PP unit took over. They put good pressure on Joel Rumpel in the Clan goal, but failed to convert following a particularly stunning save on an odd man rush into the zone.
Back at even strength, the Giants added a fourth at 56.44- a sublime zone entry and lateral pass from Chris Higgins setting up David Rutherford, who just had to punch it home. (Assist: Higgins, Vandermeer) (4-1)
Glasgow fanned on a number of chances inside the last two minutes of play, and as time expired the roof was raised by the Teal faithful once more. Another two critical points in a neck and neck Elite League Title Race which shows no signs of letting up.
---
Words: Joel Neill
Audio: Joel Neill / AVFTB
Images: William Cherry / PressEye