Before the Teal Army could pack their bags and make a break for Wales, and the prospect of the 2019 Challenge Cup final, there was business to take care of.
A resurgent Glasgow Clan skated into town sitting pretty in third place, and keen to cement one of their best league finishes since their formation. Belfast, of course, continued to nip at the heels of the league leading Cardiff Devils.
Former Giant Craig Peacock was once again out of action for the Clan- the only scratch in an otherwise healthy roster.
In addition to long term layup Guillaume Gelinas, Belfast rested Lewis Hook along with healthy scratch Jonathan Ferland- who took up assistant coach duties behind the bench.
Ahead of faceoff a sight for sore eyes took to the SSE ice to rapturous applause in the shape of the returning Patrick Dwyer.
An early power play opportunity (Scott Pitt, 2 mins slashing) allowed Belfast to open their account on the night, when AVFTB Player of the Month Jordan Smotherman clapped one from the top of the right circle, beating Clan netminder Joel Rumpel at 5.05. (Assist: Baun, Johner) (1-0)
Belfast took care of their first penalty kill of the night just a few minutes later, when Patrick Dwyer sat for slashing at 9.03.
They weren't so lucky on their second. Following a Kendall McFaull cross checking call at 16.35, Travis Erhardt flipped the puck into Tyler Beskorowany's right circle, feeding Scott Pitt who wristed near post to draw the visitors level at 17.26. (1-1)
SOG after 1: Belfast 8-10 Glasgow
The teams skated out for the second to the sound of the Prodigy's Firestarter in memory of the late, great Keith Flint.
Unfortunately it took just 16 seconds for Glasgow to earn themselves a power play opportunity as Josh Roach headed to the box for tripping.
However, following a solid kill Blair Riley forced a turnover on the Giants blue line, skating into the left side of the offensive zone and feeding a freshly released Roach for a sublime finish and a 2-1 lead at 22.24. (2-1)
A sustained period of pressure and healthy puck cycle led to the Giants 3rd, when Kyle Baun put the puck on Kevin Raine's tape at the point- the Giants #22 flipping the puck towards goal and a poised Darcy Murphy on the goalie screen, his tip beating Rumpel at 27.37 (3-1)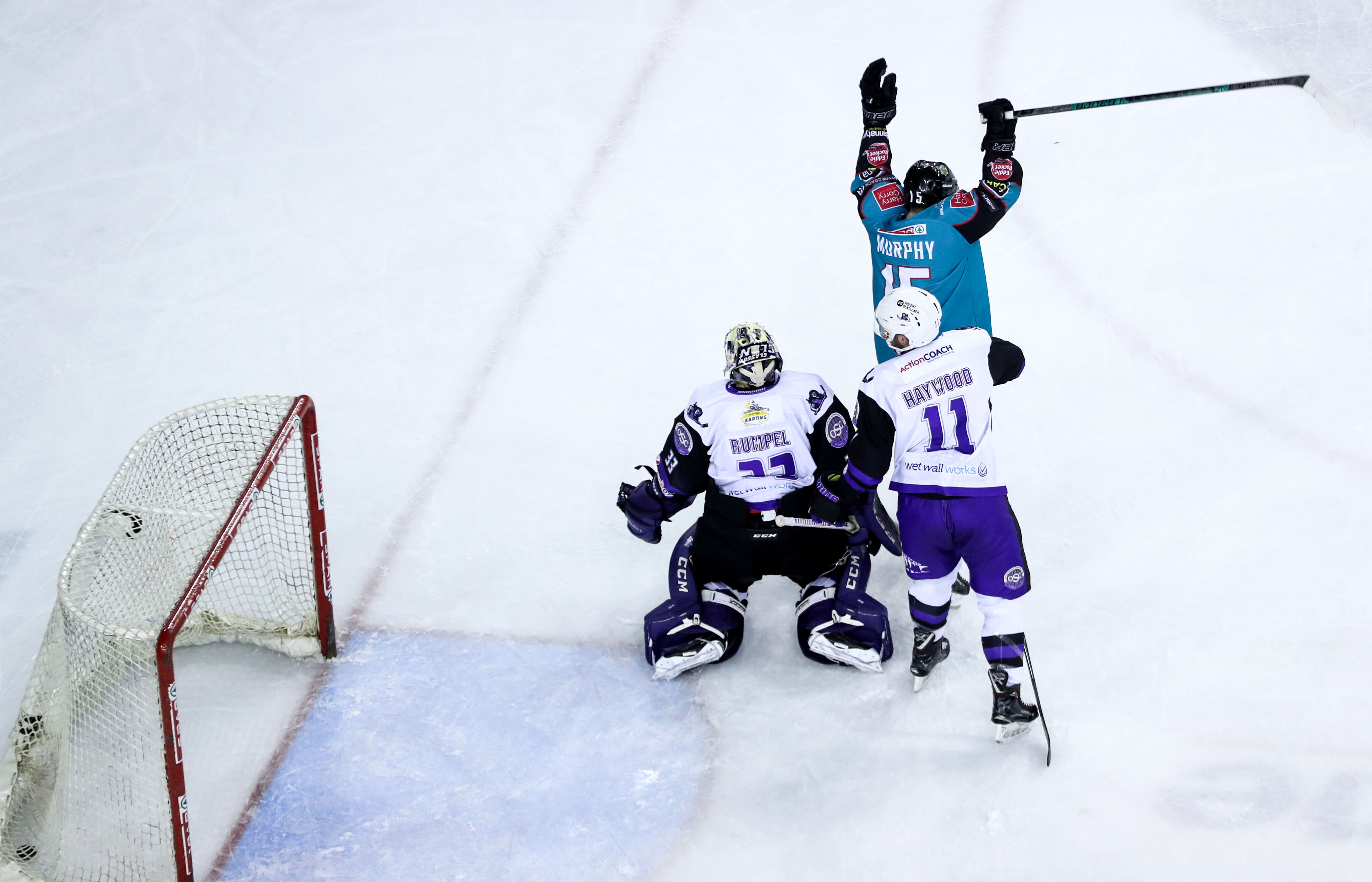 Chris Higgins headed to the penalty box for abuse of an official following a Clan offside whistle and the Glasgow power play unit took over.
However, Tyler Beskorowany continued an impressive middle period, denying a number of strong chances.
The Clan added their second within the final five minutes of the period, when Guillaume Doucet got two bites of the cherry from close range, pouncing on a rebounded puck in front of the crease. (Assist: Wilson, Haywood) (3-2)
Captain Blair Riley opened the gap again at 37.55, following some fantastic breakout play from the prolific Darcy Murphy (4-2).
SOG after 2: Belfast 27-21 Glasgow
The Giants began the third period dealing with a 5 on 3 kill, following successive penalties at the bottom of 2 from Higgins and Smotherman.
Glasgow initially struggled for meaningful offense, but with 27 seconds of 5 on 4 hockey left they finally struck twine, Beskorowany screened well and beaten from a long range wrist shot courtesy of Gerard Hanson (4-3)
A Glasgow power play (McFaull interference) was quickly turned into 1.09 of 4 on 4 at 45.33, as Travis Erhardt sat for hooking.
Belfast pressed, but Joel Rumpel made a series of stunning pad saves before flashing the glove to deny a 5th.
However, after utterly ringing the crossbar, Belfast finally broke through. Points machine Darcy Murphy played a cross ice pass to Kyle Baun who shot low and hard past Rumpel to energise the home crowd at 48.15 (5-3)
Belfast had a power play opportunity inside 7 minutes (Doucet 2 min) but could not convert.
A goal mouth scramble with 2.38 on the clock drew Glasgow to within a goal as a sprawling Tyler Beskorowany was beaten from close range by Gerard Hanson. (5-4)
With 55.8 seconds left in the game Clan HC Pete Russell called a time out to draw up his plan.
Rumpel finally made it to the bench with around 20 seconds left and Glasgow iced the extra skater, just as Beskorowany froze the puck.
But the Giants pinned the puck in the corner and held on for the 2 points.
On to Cardiff…
SOG after 3: Belfast 44-37 Glasgow
---
Words: Joel Neill
Audio: Joel Neill / AVFTB
Images: William Cherry / PressEye