Regular contributor Gary Jackson looks at which teams stand in the way of the Giants retention of silverware.
Having won 4 from 4 in our preseason schedule, and looked strong in the Champions Hockey League, we may as well hand out the trophies now; Giants will win the clean sweep, a Grand Slam, this season will be a precession. We may as well quit the EIHL and join the NHL I honestly think we would could hold our own….
I jest of course, but I am confident that Belfast will be up there for every domestic trophy again this season. Thornton and Keefe seem to have put together another fantastic team, which, from the looks of it, are going to be hugely entertaining.
So who are we up against?
Cardiff Devils:
You can't write a piece about potential title rivals without mentioning our celtic cousins. Cardiff have been THE team to beat over recent seasons They have retained that core of players that have been collecting trophies like pokemon over the last few seasons. Their strength is their consistency, you match your best line against their 1st line, then bam they stick out their 2nd line and its every bit as good as the first. I've already spoken in length about the capture of Blair Riley, and, as Jo Sheenan put it recently, I don't see where he would even fit into this Giants team right now.
We've not replaced like for like we've gone in a different direction. The Devils have the GB number 1 netminder in Ben Bowns, and that's a massive bonus for them. The benefits of having an extra import skater cannot be underestimated, but I have noticed something about him over the last few seasons; he plays against the opposition netminder.
What I mean by that, if the other netminder is having the game of his life Bowns tends to either up his game to match the level set, or he has a 'mare. I realise this will be a controversial opinion but keep an eye on it and mark my words. I first noticed this when he was starting to edge ahead of Murphy as GB #1, he gave an interview where he said "I still haven't been able to beat Stephen Murphy." Playoff final last season was an example of where it worked for him.
They also have the greatest player ever to play the game in Joey Martin. My feeling about Cardiff is that it's hard to keep the same group of players together and remain the dominant force for more than 2 or 3 seasons. I feel they will still challenge but come up short, I'm not prepared to say trophyless, as we have 2 knockout competitions and on their day Cardiff can still be the best team in the league.
Sheffield Steelers: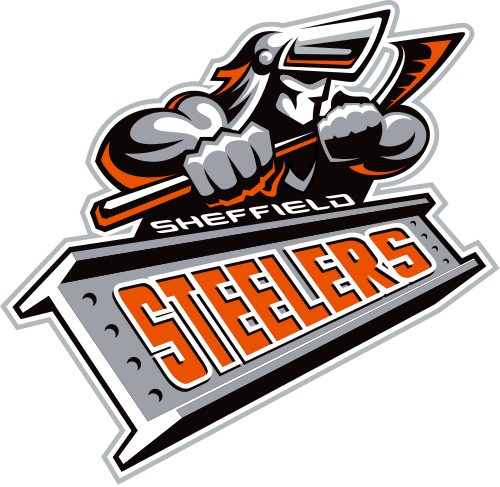 They are back. After a couple of seasons in the trophy wilderness the Sheffield Steelers are back. Aaron Fox has assembled one stacked team. Their roster reads almost like a fantasy hockey team.
Fox has shown that he is not one for sentiment binning off the Whistle brothers, cutting out other dead wood and going after his targets with a ruthless pig headedness. Their net minding team seems solid and with the greatest respect to Jackson Whistle, an upgrade on last season for sure. They have a good mix of youth and experience, and a sprinkling of Yorkshire lads which the crowd love to see. I've said on twitter a couple of times that Steelers are the team to beat and while I do honestly believe it, I look at the Steelers d-corps and just think there is a lot of offensive talent there. Dut who is the stay at home guy there? Steelers are going to win games with big score lines I think, for those odds chasers out there, I'd keep an eye on the overs markets here.
The other thing that worries me about Steelers, well I say worry, I do of course mean gives me hope, is there are a lot of big names and big egos. Fox will have a job on his hands keeping the team together, one or two bad results and things could get interesting in that locker room.
Nottingham Panthers:
I have described this seasons Panthers as the dark horse. On the face of it they don't seem to have the firepower of Steelers, Devils or Giants. There wasn't a signing from Nottingham that made me go, "wow!" and they have lost a Panthers stalwart in Farmer.
Tim Wallace seems to have gone about his recruitment in the exact opposite to Fox and the Steelers. He appears to have done homework and gone for players he thinks will work well together. A rookie coach, although Wallace is no stranger to the EIHL having spent the previous season with MK Lightning and the year before in Sheffield. Given some of the stories coming out of Nottingham last season a trained chimpanzee would have been an upgrade on the coaching bench.
Panthers have not got it right since Neilson left but this is a brave appointment, I hope he is given a couple of seasons to put his mark on Panthers. Acquiring Jackson Whistle was an absolute no brainer for Nottingham when he was sacked by Sheffield. A netminder's job is to give the out skaters a chance to in a hockey game, and Whis' has shown, both in Belfast and Sheffield, that he has that ability. He is not a starter for a title chasing team yet but as a back up or lesser tandem he certainly gives the Panthers another option. It's dangerous to have trophy snobery especially if you haven't lifted anything in a while but I wouldn't be surprised to see Whis to start the cup games, and perhaps the games immediately before and after the continental cup groups.
Best of the rest:
It's hard to look past the so-called big 4 this season The gap between the haves and have nots is emphasised more and more every year, Braehead Clan are probably going to be the closest team to the top 4, and may even finish 4th. Fitzy another rookie coach has been the face of the Clan for quite a while now and was a player of the same school as Adam Keefe. If he takes that behind the bench Clan will be a team that will keep other teams honest, you will not get a shift off. Chad Rau for me was the signing of the off season and a hell of a coup for Fitzy and the Clan. With the League now being a straight shoot out rather than the ridiculous conference system I just don't think Clan have the depth to mount a serious challenge on the league.
Fife, for several seasons now, have first and second lines that have competed and matched everyone in the league, their problem has been depth. The drop in quality between their second and third lines is stark and as a result they over play the top lines. Which causes fatigue and they tend to fall off after Christmas. This year seems no different sadly.
So there you go the 2019-2020 EIHL season is just a day away for the Giants, who have massive targets on their backs. Everyone wants to beat the reigning Champions, that's just sport. I for one am really looking forward to it, there are some stacked rosters and it promises to be one exciting season.
Here we GO!
---
PODCAST: PROST! – The Lads are joined by Jason "Taff" Ellery for the show who shares tales from behind the scenes at the Giants. We look at the CHL adventure, hear from Shane Owen, Clan's Gareth Chalmers, Storm TV's Stephen Packer and see how the SNL Giants are getting on.
A View From The Bridge Podcast, Official Podcast of the Belfast Giants, part of Kingdom Of The Giants.New Editions are online EVERY WEDNESDAY through the season, at 8am from Apple Podcasts, Spotify, The Cool FM App and all other good podcast providers.
---
Gary got in touch with us to share his thoughts by e-mailing us a KotG.
If you'd like to get involved, please just drop us a line at articles@kingdomofthegiants.com . We want to be your platform for Belfast Giants and Hockey opinions.
A site by the fans for the fans.
---
Words: Gary Jackson    
Pictures: William Cherry / Cardiff Devils / Sheffield Steelers / Nottingham Panthers