Since the inception of the NCAA Friendship Four, there has been a potential identified by the Belfast Giants for recruitment from the strong talent pool on display each Thanksgiving weekend in the SSE Arena.
From the links to that talent pool we have seen the likes of Spiro Goulakos or the record breaking ability of Darcy Murphy take to the ice in teal.

Today the Giants have taken the next step, recruiting directly from the reigning Friendship Four champions, Union College, and welcom 21 year old forward Liam Morgan to the 2019/20 roster.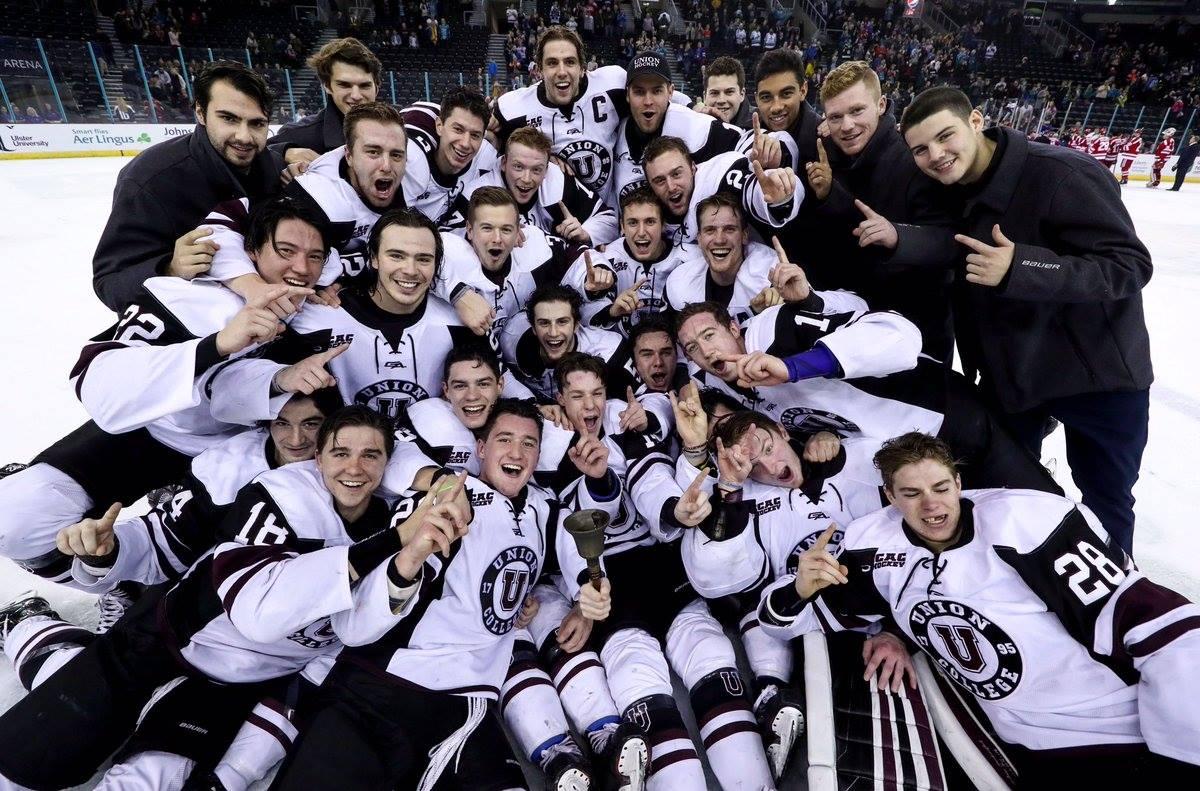 Morgan takes his first steps into the professional game following 2 seasons in the NCAA programme with Rick Bennett's Belpot winning side. And in discussion with A View from the Bridge's Patrick Smyth, stated his excitement at the prospect of returning to Belfast with the Giants.
"My experience at the Friendship Four was what drove me to try and get back to Belfast with the Giants and I'm very excited to get over there".
Morgan, who has made the decision to turn pro at the age of 21, and in addition to do so with an immediate move across the Atlantic, will take his place in the Giants roster looking to prove his move has been made at the right time in his career.
Without doubt there is an element of risk in both his own decision and that of the Giants, to take on a first year pro. Yet scouting reports from his time in juniors and at NCAA level show Morgan to be a mature head on young shoulders, and the determination in his interview with AVFTB to "lead the team in some numbers" reflects the ambition of the NCAA players we have seen on these shores before, both at the F4 and those who have joined the EIHL.
This off season has witnessed a number of rival EIHL teams recruit more from the NCAA talent pool, possibly having seen the successes of the Giants in that field. This could press the EIHL more into the mould of the "European Stepping Stone". Attracting talented and ambitious players looking for that first foray into the game across the pond.
It does, however, mark an interesting shift in the recruitment by the Giants, drawing fruit direct from the NCAA Friendship Four, and this season will show if, once again, the Giants can take young talent, as they did with Darcy Murphy, and maximise their potential within the organisation and the league.
Morgan certainly has the potential to succeed. And we hope that he fulfils that.
Bout ye, Liam.
---
Words: Patrick Smyth    Audio: A View From The Bridge
Pics: William Cherry/PressEye Belfast Giants