FIRST PERIOD
Shane Owen got the start in goal ahead of the final of four pre-season games for the 20th Anniversary Belfast Giants, and he was needed almost immediately.
It was Kevin Raine who provided the early entertainment, almost going bar-down from the right side of the blue line with a thunderous one timer inside the first minute, before promptly taking 2 for interference.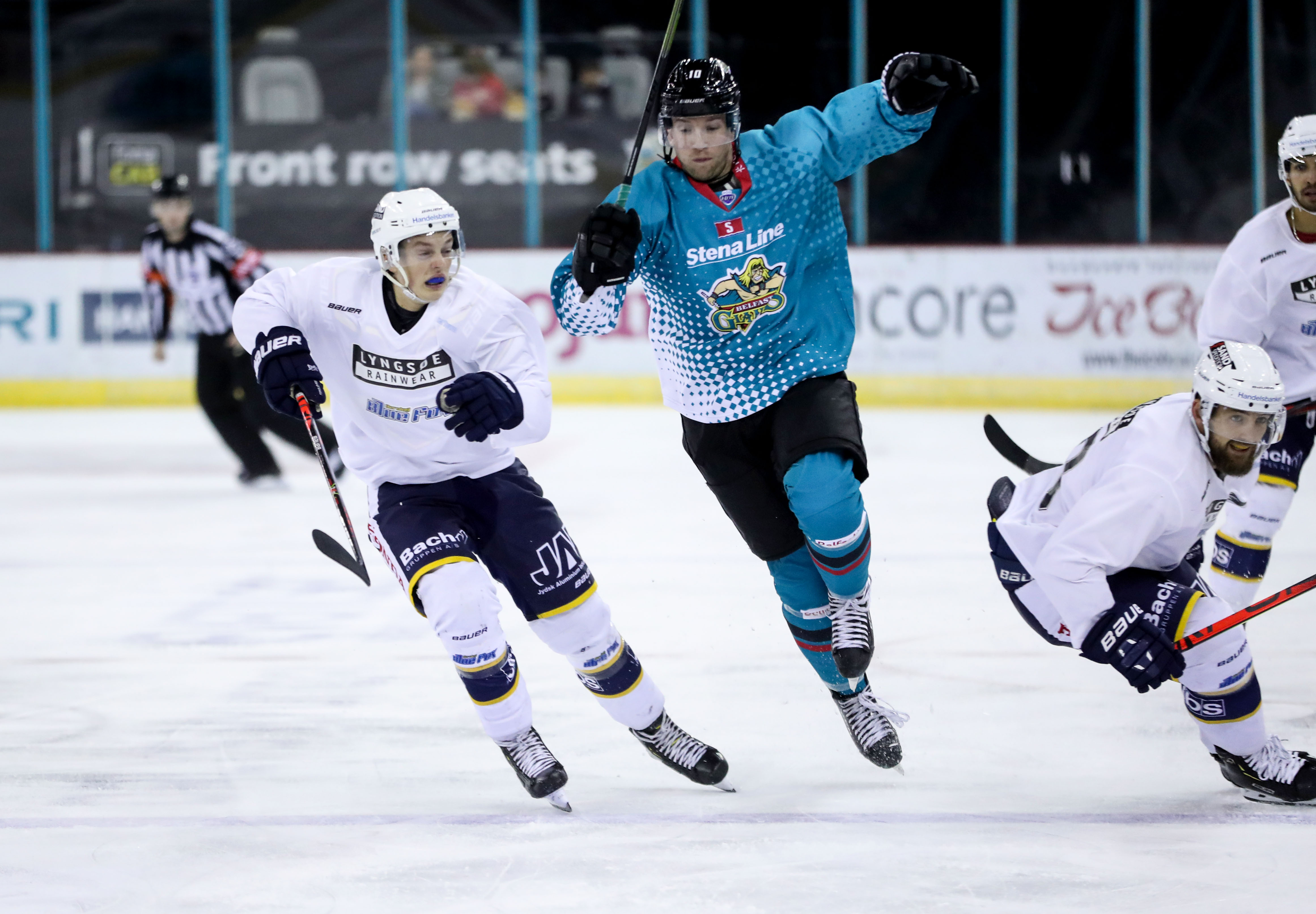 The Giants kill unit rallied without their quarterback, and with the help of Owen, kept the Herning PP unit at bay.
The Giants' pressure in the opening ten minutes was tremendous, applying the heat to Herning's D lines and goaltender Albert Adamsen in near constant waves.
They were rewarded at 10.36 when Lewis Hook took two bites of the Cherry from the edge of the crease, both parried by Adamsen, before Ben Lake buried his third of the weekend off the loose puck. (1-0)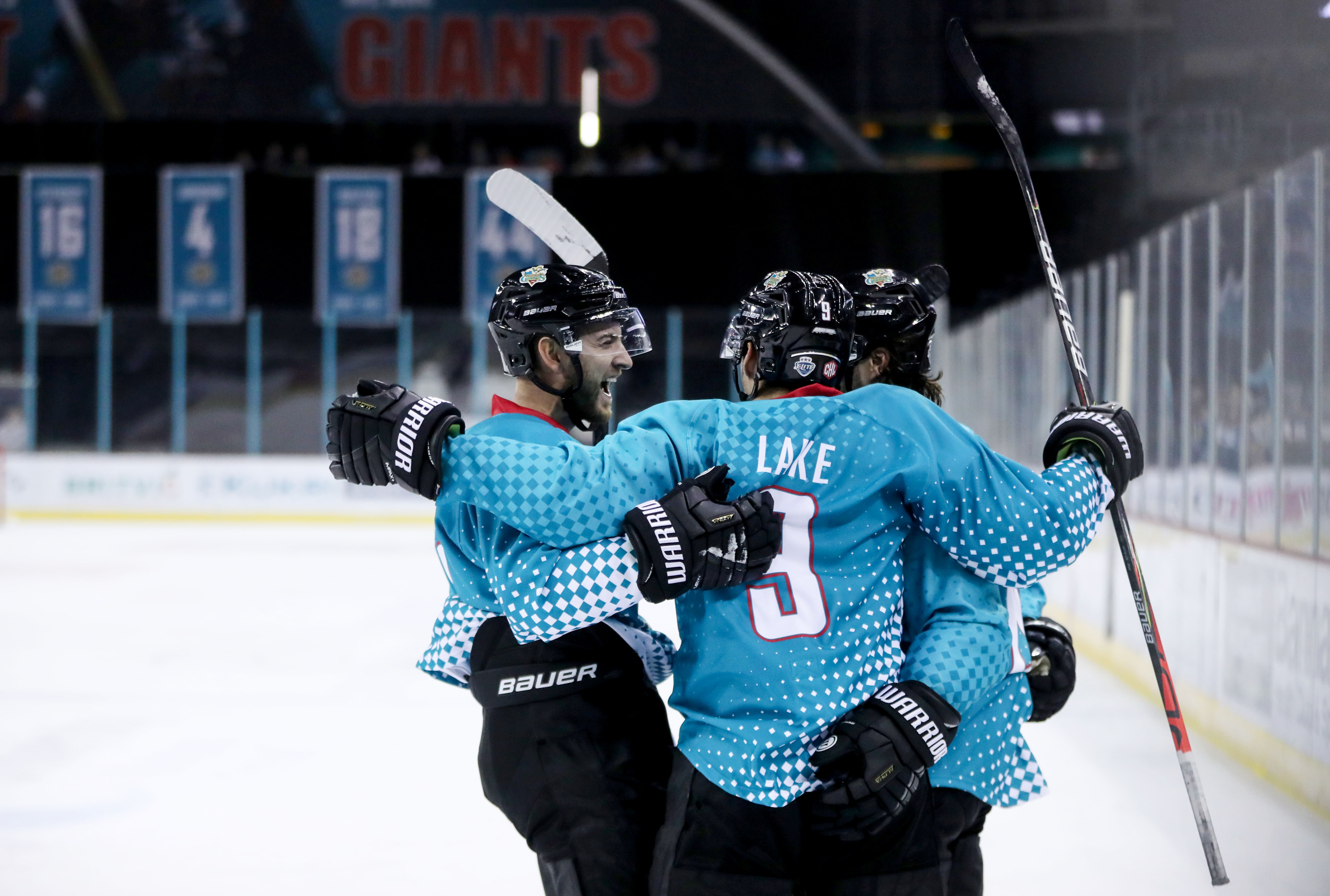 A Matt Pelech roughing call following a coming together on the edge of the offensive zone turned into 1.11 of 4 on 4 after Herning's Morten Poulsen was sent to the box for slashing at 11.54- swiftly followed by a Belfast 4 on 3 (Flanagan- delay of game) at 12.08.
Jesse Forsberg made Herning pay at 13.44, with a power play goal which took a meaty deflection off a D-man's skate. (2-0)
Brodie Dupont sent Belfast onto an unsuccessful power play with a high stick at 14.59, before Andreas Sorensen doubled down with another (cross check) to close the period.
SOG Bel 18-5 Hern
SECOND PERIOD
The Giants had 1.21 of power play to open the middle period, but it was Herning celebrating following a Matt Pelech neutral zone turnover. Morten Poulsen pounced on the puck, skating the slot before dangling right on Shane Owen and firing home at 25.19 (2-1)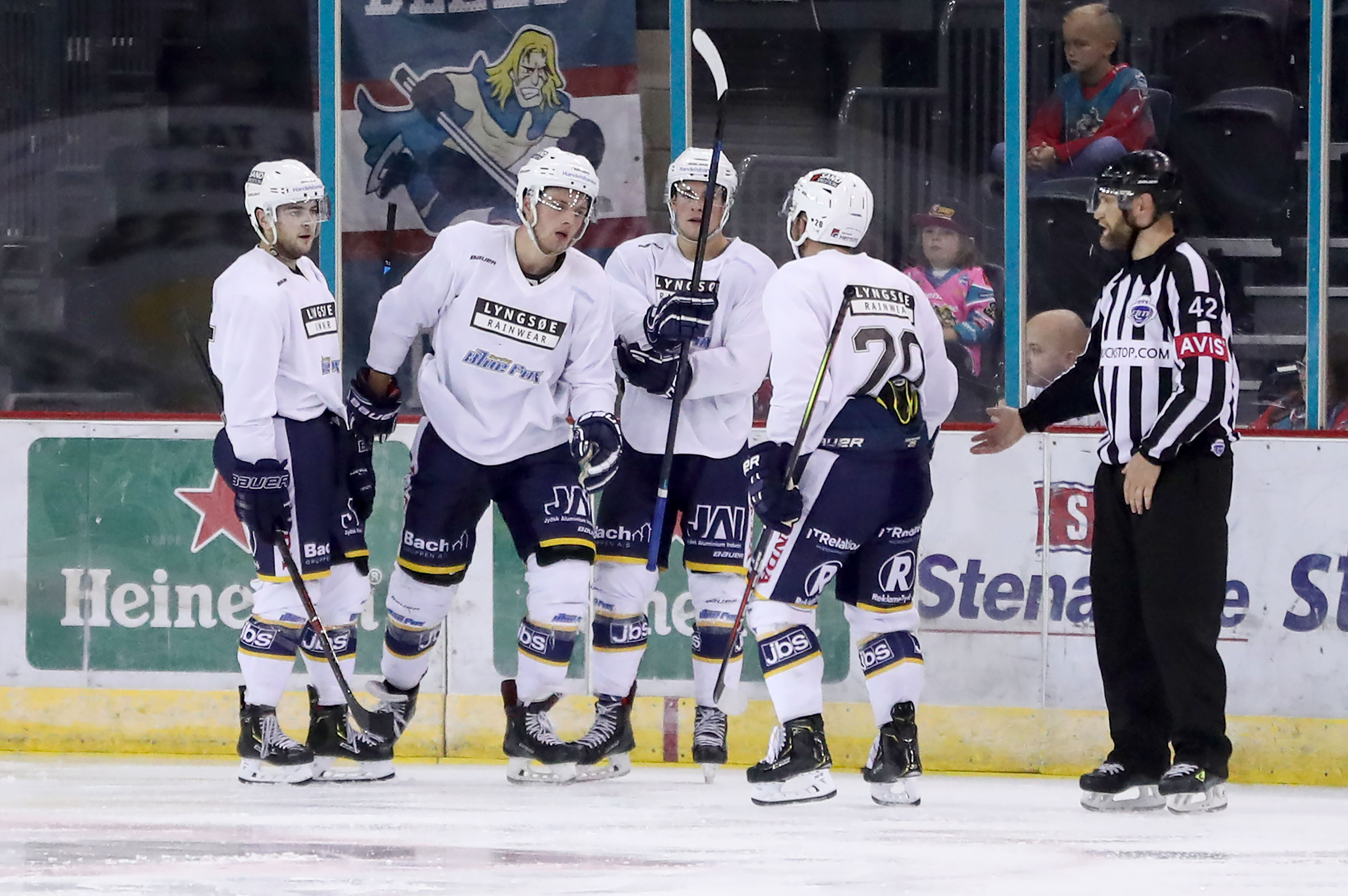 Liam Reddox replied at 30.16, registering his first goal as a Belfast Giant from close range. (3-1)
However, a high sticking penalty from Paul Swindlehurst gave the Blue Fox another opening, with Morten Poulsen striking the side's second unassisted moments later at 32.07. (3-2)
Liam Reddox doubled his tally at 35.53, giving the Giants a 2 goal cushion in a wild scoring middle period. (4-2)
Jesse Forsberg headed to the trainer's room after a tussle near the Giants bench, much to the chagrin of Jean Dupuy. Rasmus Neilsen was sent to the box for roughing at 37.58 as a result, before Liam Reddox swiftly completed the hat trick at 38.20, with help from Patrick Mullen. (5-2)
Just SIX seconds later, Herning responded with a lightning fast attack from the drop on Shane Owen, notching their third. (5-3)
Liam Reddox closed out the period in the penalty box for high sticking, leaving the Blue Fox with 38 seconds of power play to open the third.
[Look… there were a bunch of penalties too, but it's pre-season and I was too busy making Liam RedSox graphics for Twitter. I make no apology.]
LIAM REDSOX ROPES ANOTHER OUT OF THE PARK. IT'S A HOME RUN HATTY. ? pic.twitter.com/SE9ksxC6EN

— Joel Neill (@joelneill) August 24, 2019
SOG: Bel 32-16 Hern
THIRD PERIOD 
Tempers began to flare at the top of 3. An already agitated Jean Dupuy sat for cross checking at 40.50, making his feelings abundantly clear to the opposition following the whistle.
Brian Ward joined him for delay of game at 41.58, and Herning called a time out to design their attack for the 5 on 3.
Herning set about attacking the back door, but Dupuy was cut loose and the action returned to 5 on 4.
Shane Owen pulled off a beautiful double stop on a Herning breakaway to deny their fourth, as Brian Ward's penalty clock ticked down past 30 seconds.
A full strength Giants swarmed the zone, first Jordan Smotherman almost finished a wraparound into the roof, his shot zooming too high.
Then, an electric Liam Reddox set up Patrick Mullen who misfired from the right circle.
Cold water was poured on the attack when Curtis Leonard was called for a trip at 46.51, however the Giants penalty kill once again stood tall.
Both sides began to look tired inside the last eight minutes of the game, but Belfast still appeared to have significantly more in the tank than their Danish opponents- pouring forward on goaltender Albert Adamsen.
Belfast drove the dagger with a minute left, when a zipper of a Matt Pelech shot bobbled off the goaltender in the crease. Patryk Wronka was Johnny-on-the-spot, punching home Belfast's sixth as time expired. (6-3)
Dress rehearsal complete. Let's do this for real on Thursday…
---
Words: Joel Neill
Audio: Joel Neill / AVFTB
Images: William Cherry / PressEye