Northeastern and Colgate are certainly no strangers to the Friendship Four. Both sides arrived in Belfast this week for their second tournament appearance.
What they are strangers to, however, is the final.
First off, let's take a look at how they got here:
Northeastern Blank Wildcats In 2019 Friendship Four Opener
Colgate Stamp Their Ticket In Second Friendship Four Appearance
The arena was rammed to the rafters and a big game feel buzzed around the stands. The West Lounge was brimming with VIPs, dignitaries, Mayors and hockey royalty.
I mean, everyone from Mayor of Boston Marty Walsh (I MET MAYOR OF BOSTON MARTY WALSH GO RED SOX), to former US National Olympian / 2 time Stanley Cup winning Pittsburgh Penguins scout (and the man credited with bringin Jaromir Jagr to the NHL), Ralph Cox.
FIRST PERIOD: Huskies Run Riot
Oh boy. After a cagey first few minutes of back and forth, what unfolded was an utter onslaught.
Northeastern exploded into life at 7.43, when Defenseman Jayden Struble got in close and fired home past Colgate tendy Andrew Farrier. (1-0)
But Farrier's nightmare was far from over. Just 12 seconds later, the Huskies Matt Demelis robbed a Colgate jersey on the blue line, skated the left circle before dragging the puck across the face of goal, finishing in sublime fashion on the backhand past Farrier's glove. (2-0)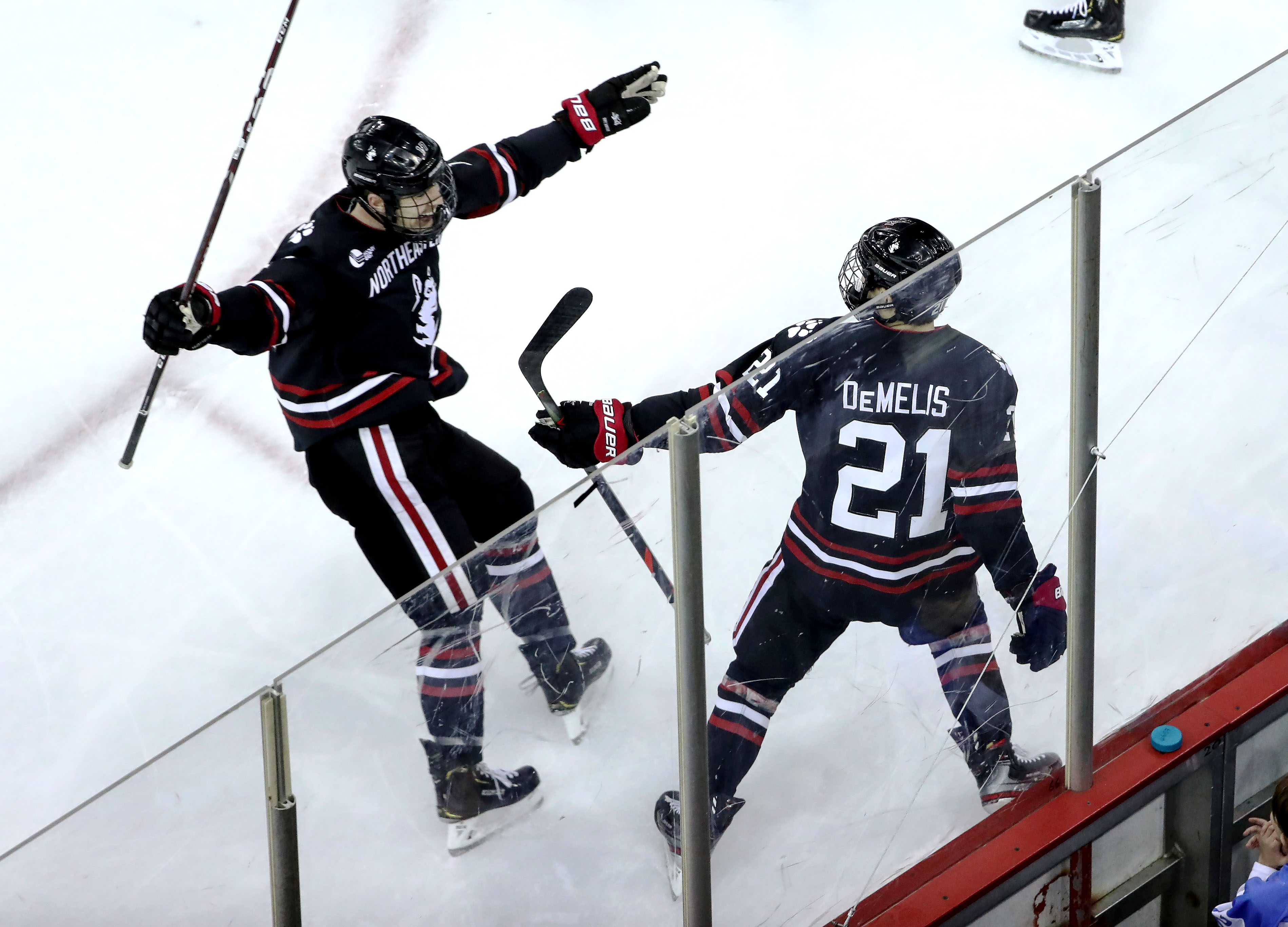 You think we're done? We're not done.
Less than a minute later, Tyler Madden picked up his own rebound in a chaotic Colgate zone and shot home from the right circle. (3-0)
The Raiders were stunned. The crowd was stunned. A man who met Mayor of Boston Marty Walsh (go Red Sox) about half an hour ago was stunned. It was me. I was stunned.
Colgate predictably called a timeout and headed to the bench to consolidate.
And to their credit, there were signs of life. John Snodgrass, who was impressive on Friday night, managed to beat Craig Pantano in the Northeastern goal from close range as the sides returned to even strength off a Colgate power play at 11.31. (3-1)
Ten minutes deep and the Belfast crowd had just been treated to an entire game's worth of action.
There was just enough time left in the period for Colgate to ring the iron, a laser wrist shot from Trevor Cosgrove went bar down and into the blue paint with three minutes and change remaining.
SECOND PERIOD: Sharf Attack
It took just one minute of the middle period for nailed-on future superstar Ben Sharf to snipe his Colgate side right back into this one, with a beauty of a snipe from the right circle and in off the post. Game on. (3-2)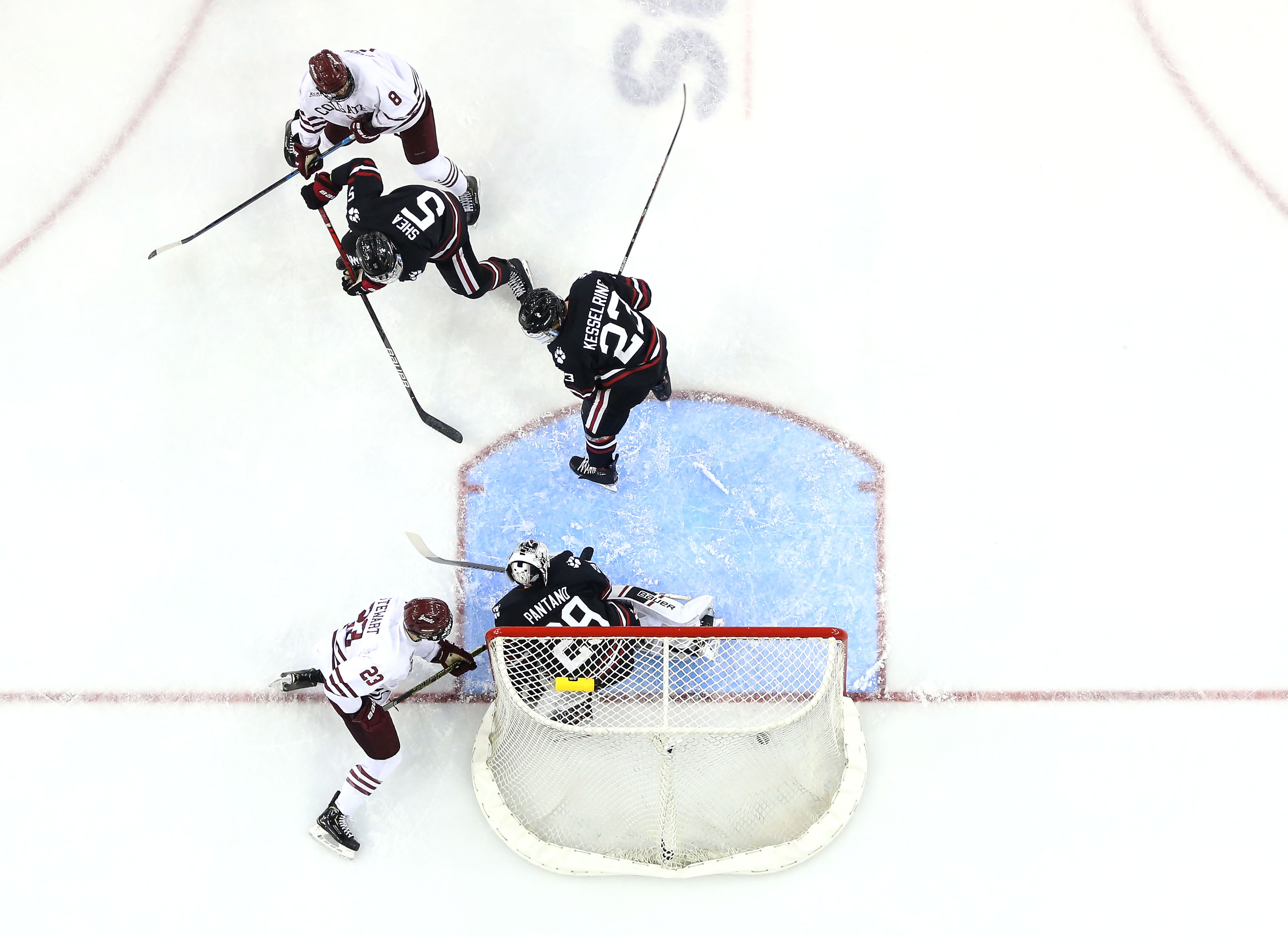 Tensions spilled over following a Huskies puck freeze three minutes in- testament if any was needed about the barn burner underway in Belfast City.
The action from here was the dictionary definition of end to end. Both netminders were nothing short of break dancing to keep their teams in the mix, particularly Colgate's Andrew Farrier- who weathered an aggressive Northeastern power play before the sides went 4 on 4 with 11 minutes left in the period.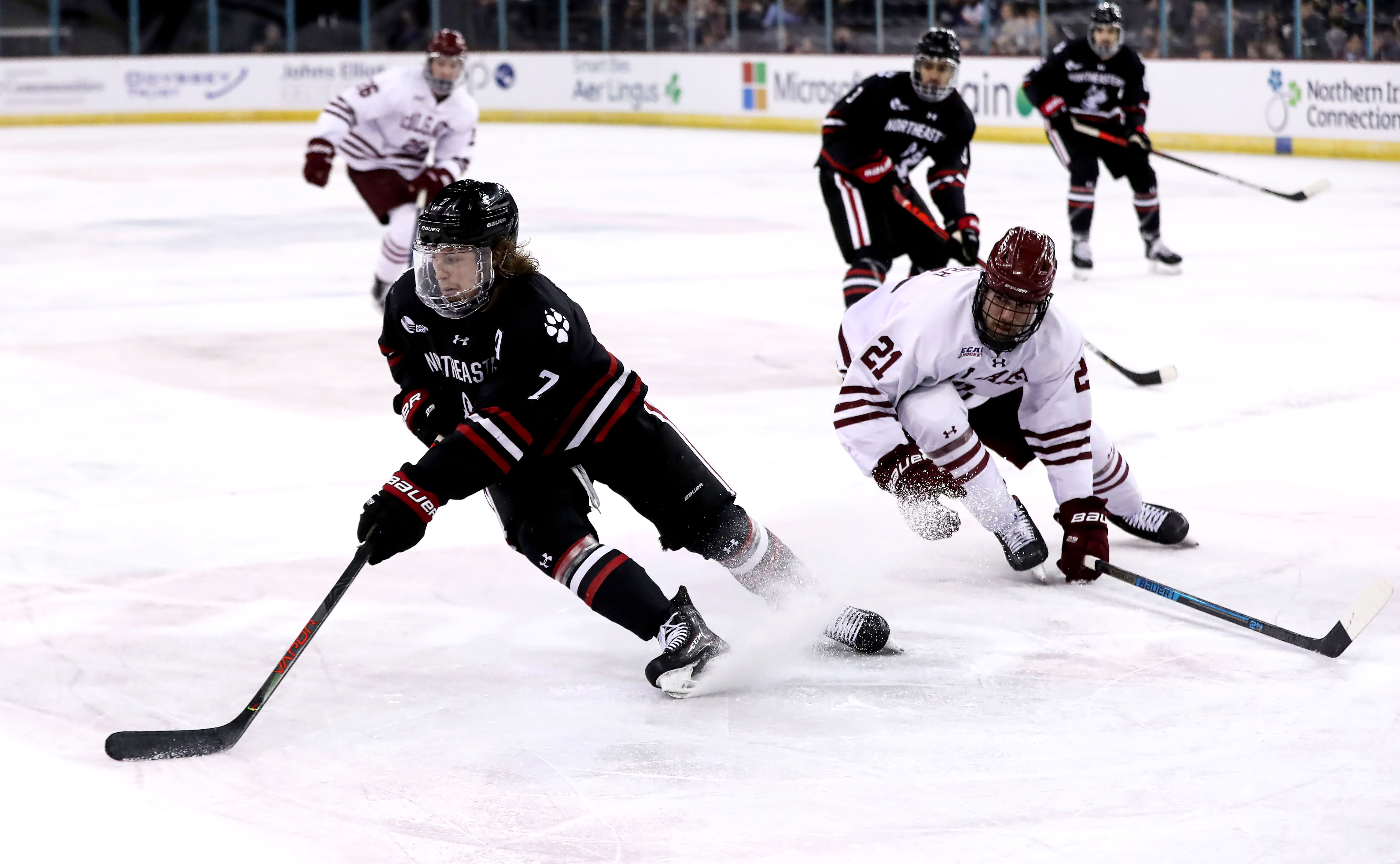 Michael Kesselring came agonisingly close for the Huskies with 2:30 to go, coming in from the left, tucking the puck behind Farrier and off the far side post- but fortunately for him an all-time Friendship Four classic headed into the second period break locked at 3-2 in favour of Northeastern.
THIRD PERIOD: Ring The Bell
The game was noticeably cagier in the first ten minutes of the final third. As pointed out by the Bel Tel's Adam McKendry, sitting immediately to my right, Colgate had seen no less than four power play chances go begging- a problem alluded to by their coach in post game just yesterday.
When you're 3-2 down chasing a Championship game, that could well be your downfall.
Their penalty kill, however, was faring slightly better.
Through successive penalties the Colgate Raiders killed a total of 5 minutes and 40 seconds of non stop Huskies power play mid period, including a total of 1 minute and 30 seconds of 5 on 3. Northeastern cycled frantically, failing to find a way through a committed special teams unit. About as impressive as defending gets.
Unfortunately for them, soon after, their fifth power play of the night proved fruitless. Gotta take your chances there. You just do.
And, because the hockey gods are cruel, with 2:22 left in the game it came down to a Colgate power play to save the game. Northeastern's Jayden Struble called for holding deep in his own zone.
With 1:11 left, Colgate goal tender Andrew Farrier was signalled to the bench and the Raiders went 6 on 4. But not for long. Struggling to set up in the zone, the puck was intercepted by Friday night hero Ryan Shea who did not hesitate to put this one out of reach. (4-2)
With just 17 seconds remaining, and with netminder Farrier back on the bench, Colgate finally found their break. Bobby McMann capitalised on a good phase of pressure to bring the chasing Raiders to within a goal. (4-3)
But it was not to be- and an absolute classic by anyone's standards came to a close with the Northeastern Huskies shedding their gloves and sticks in celebration of the fifth Friendship Four title- their first.
Ring the bell, boys.
AVFTB POST GAME INTERVIEWS
Northeastern Coach Jim Madigan on his side's first Friendship Four title.
Northeastern Captain and Player of the Tournament Ryan Shea talks special week in Belfast.
---
Words: Joel Neill
Audio: Joel Neill / AVFTB
Images: William Cherry / PressEye