Alright! Hi! We're back!
The Belfast Giants returned from literally all over Europe this week- as a domestic break to allow for Team GB's Olympic Qualifiers provided an opportunity for some much needed R&R for Adam Keefe's men.
Giants fans, too, had enjoyed a mini break of their own- shedding the stresses of a competitive game week for a fantastic few days revelry at Mark Garside's Testimonial and gig/draft night.
Familiar faces from past and present came together to celebrate the Benjamin Button/Gerry Cinnamon of the EIHL- and it certainly did the soul good to see retired numbers like #16, #18 and #19 back on SSE ice, alongside beloved former Giants like Jon Boxill, Steve Saviano, Spiro Goulakos and GWG Machine Matt 'Bean Juice' Towe.
However, it was back to business Saturday night as Ryan Finnerty's notoriously sticky Manchester Storm rolled into town in search of a much needed W- as their push for a playoff place rolled on at the foot of the table.
FIRST PERIOD: Smotherman Scores On Valentines Night
Aside from a fruitless Giants power play opportunity, there were 9 minutes and 52 seconds left in the first period before anything of note happened. Cody Thompson and Ryan Lowney came together on the edge of Shane Owen's crease after a puck freeze, and after some hesitation the gloves dropped.
It wasn't the most heavyweight of tilts, but it did serve to light the bumper Saturday night crowd up- another result of the Giants excellent game night marketing around the city this season.
Belfast had a flurry of looks with around 3 minutes left, culminating in Ciaran Long tangling with Manchester's Declan Balmer- as Storm goaltender Matt '& Tonic' Ginn lay sprawled in his crease after an unscheduled meeting with Bobby Farnham.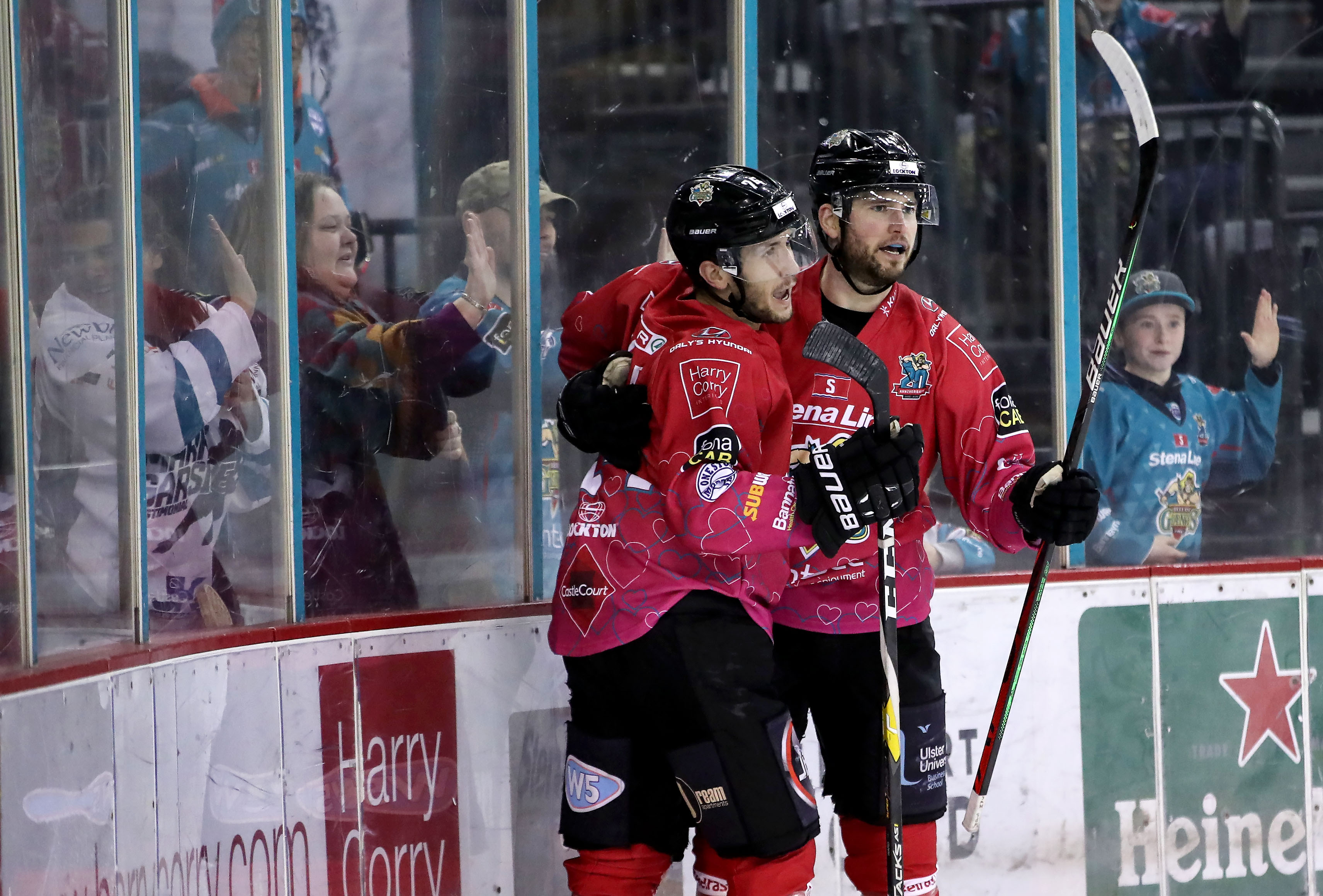 Moments later, Elgin Pearce lashed a cross ice pass from the left circle into the path of Jordan Smotherman in the slot. Belfast's number 14 was downright cheeky in his finish- dinking it up and over a flailing Ginn at 18:23. (1-0)
There was just enough time for a Storm penalty shot, after Ben Lake hauled down Cam Braes who was bearing down on Shane Owen. After a less than stellar attempt on goal, the Giants netminder took care of the danger.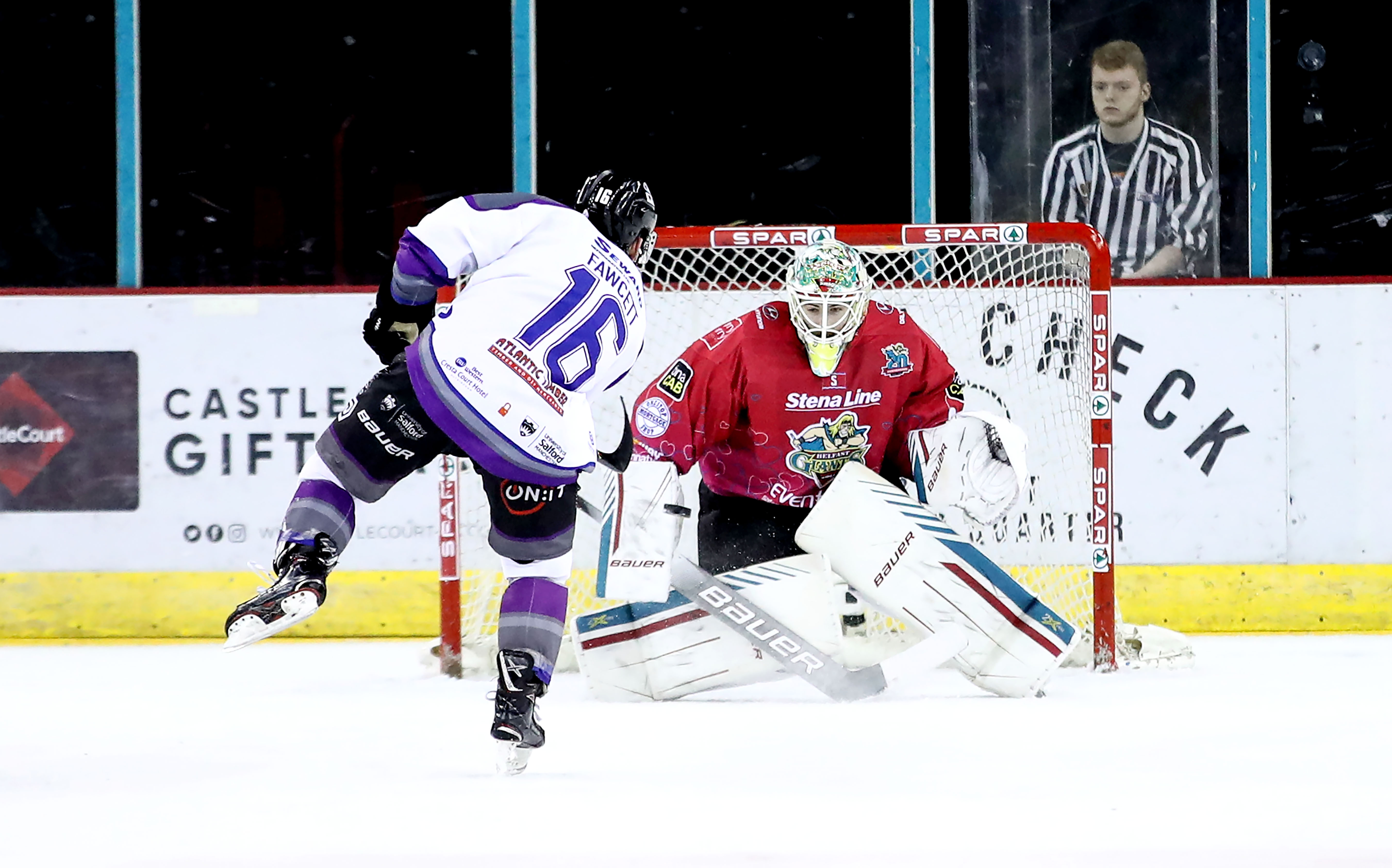 SECOND PERIOD: Scott Simmonds Scores On Valentine's Night
Despite Bobby Farnham buzzing around creating occasional bursts of chaos, and despite the BIG TIME DEBACLE ENERGY that comes as part and parcel of the Manchester Storm- the game continued to be fairly unspectacular.
Manchester looked the more dangerous side for the first time mid period, as Belfast were a little too casual about clearing traffic- culminating in Owen being momentarily caught out behind his own net.
However- to their credit- when they did push out over their blue line, the home side looked sharp.
Manchester's persistence in the zone finally (frustratingly) paid off, when Scott Simmonds wristed the puck through traffic from the point- somehow evading everyone on its way in at 37:15. (1-1)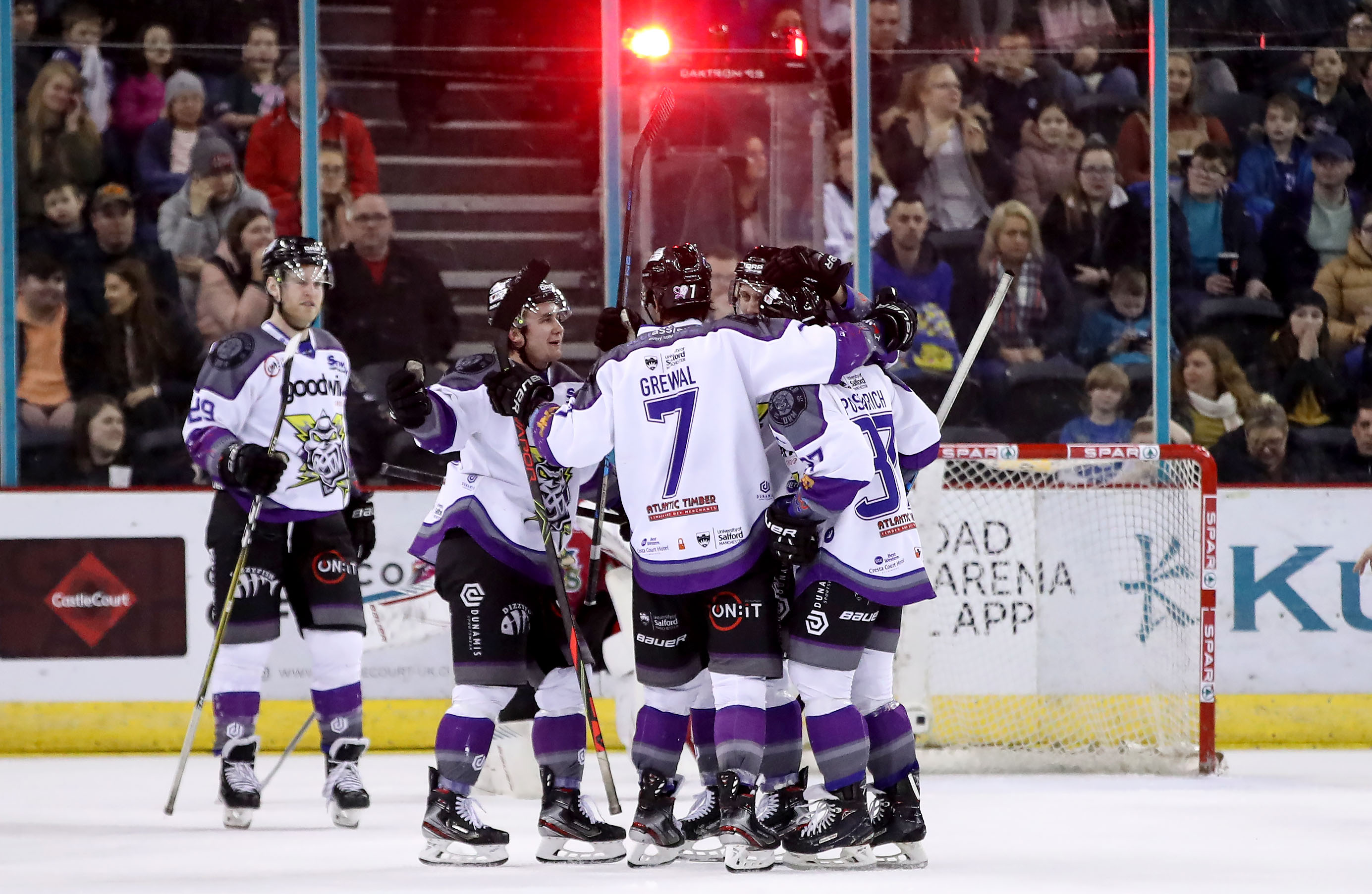 There had been occasional barbs traded throughout the evening, but the physicality noticeably ramped up between the sides as the middle period wound to a close.
THIRD PERIOD: Ryan Finnerty Is So So Mad On Valentine's Night
Despite Belfast's offensive dominance- the shot clock sat at 27-17 in their favour at the start of the period- the game was wide open with twenty left to play.
Then, at 46:26, ELECTRICITY.
Kevin Raine unleashed a bullet from the blue line which CIARAN LONG got a blade to- deflecting the puck past Ginn to edge the lead. (2-1)
Some questionable officiating landed Liam Reddox in the box for four minutes for Interference plus Unsportsmanlike at 47:19.
An already lively crowd were sent into overdrive when Manchester's Dallas Erhardt evened things up with a tripping call in the crease. Storm tendy Matt Gin ended up down for an extended period from the ensuing pile up- and a tetchy game continued at 4 on 4 with that BIG TIME DEBACLE ENERGY once again bubbling to the surface.
Belfast returned to the power play with 8 minutes left in the game, as an incensed Ryan Finnerty jawed off at the officials from the Storm bench over what he perceived to be a soft Tyson Fawcwett holding call.
When Manchester's Dallas Erhardt headed for the box exactly two minutes later for Unsportsmanlike conduct, Finnerty looked like that scene in total recall where Arnie falls down the hill with his eyes popping out.
And by the time Brian Ward had tucked the puck past Ginn at 54:46, the Manchester Head Coach had transformed into a fine red mist A cloud of pure unfettered rage. Hard to Coach a team when you've transformed into anger-gas. It just is. (3-1)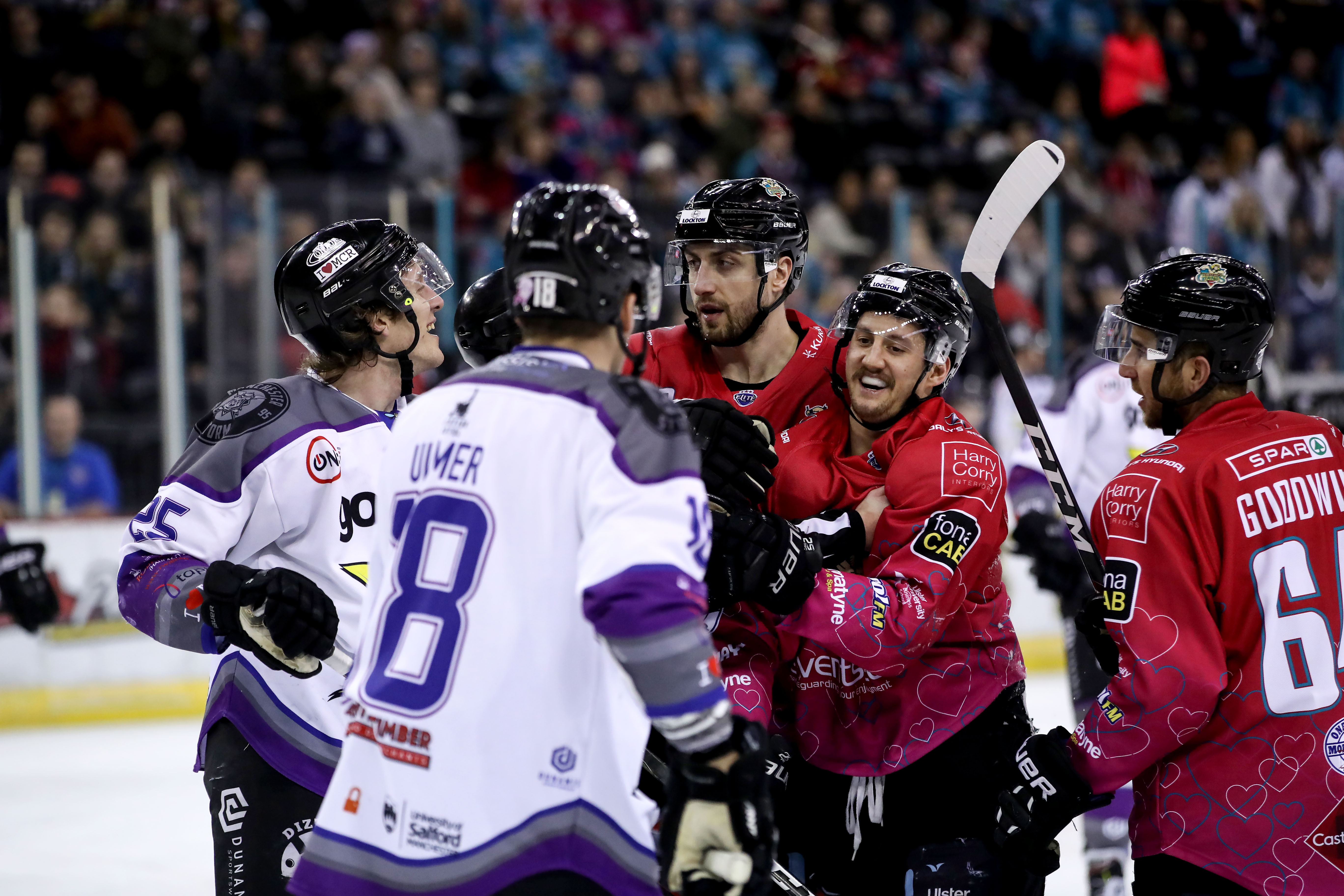 It wasn't to be plain sailing for Adam Keefe's men though, as Scott Simmonds brought the visitors to within a goal with a fine finish from the right circle moments later. (3-2)
A Storm timeout and the icing of the extra man was negated on the edge of the final minute as 'Big Penalty' Layne Ulmer sat for a hooking call at his own blue line.
With around 20 seconds remaining on the clock, Finnerty rolled the dice and Ginn headed for the bench again to even it up to 5 on 5, but Belfast held on for the two points.
Happy Love Day.
AVFTB POST GAME INTERVIEWS:
Adam Keefe: "Closer than I would have liked, but every team is playing for their lives."
Ciaran Long: "We kinda let it slip in the second, but I think we still had control of the game."
---
Words: Joel Neill
Audio: Joel Neill / AVFTB
Images: William Cherry / PressEye