Belfast Giants 4, Dundee Stars 1 – Challenge Cup Group B
The 2018/19 Belfast Giants made their first competitive outing at the SSE Arena with a 4-1 victory over the Dundee Stars. Stephen Murphy returned between the pipes in his 10th year for the Giants, with Craig Holland taking the duties for the Stars.
Giants opened the scoring early, Colin Shields credited on the night with the goal, Paul Swindlehurst with his own claim to the goal, gaining the assist after a scrappy dig of the puck around the net.
The first period  was long drawn out with a lot od neutral zone play, before a late Jim Vandermeer Powerplay goal (and subsequent GWG) doubled the advantage, and soon after Dustin Johners unassisted Shorthanded effort floored the visitors who had fought hard to get back into the match.
The second period was more scrappy than the first and belonged, on the scoreboard at least, to the Dundee Stars, Francois Buchard's shot taking a rattle off Stephen Murphy's pads before creeping over the line to make it 3-1, the only goal int he middle period.
Which left a final period with potential, but pretty much unfulfilled, the Giants running out easy enough victors, Paul Swindlehurst confirming at least one goal to his own stats, a backhanded attempts hitting in off the post.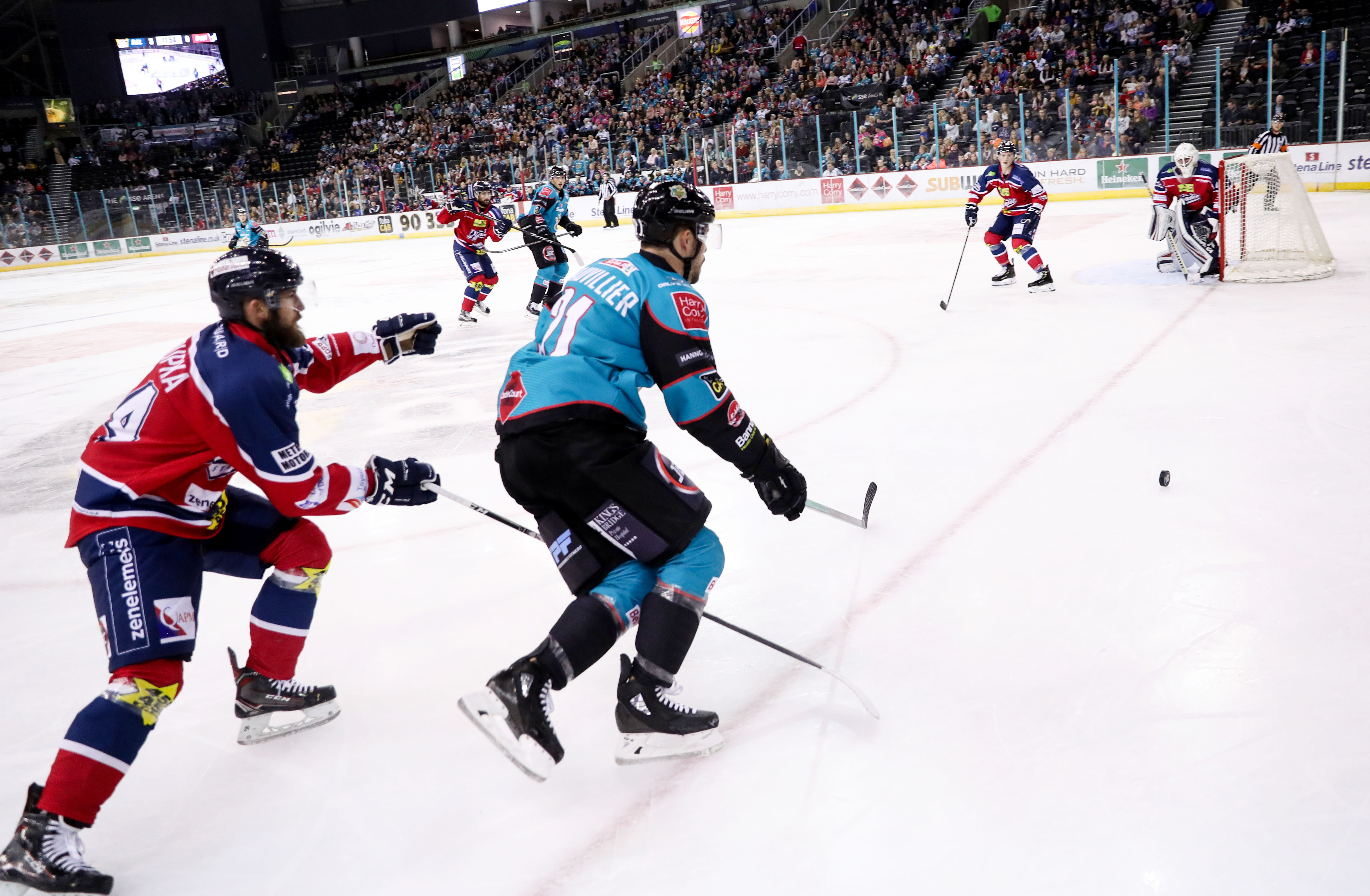 Not the most enthralling of opening nights, but a win is a win for the Belfast Giants. Adam Keefe's side retain their 100% record to start the season with the Glasgow Clan arriving on Queens Island tomorrow evening. Dundee stay in 2nd in the Challenge Cup Group, but face the Fife Flyers who have the chance to leapfrog them should they take the win.
Challenge Cup Group B Standings
| | | | | | | | | |
| --- | --- | --- | --- | --- | --- | --- | --- | --- |
| Team | GP | RW | W | L | PTS | PCT | GF | GA |
| Belfast Giants | 3 | 3 | 3 | 0 | 6 | 1 | 11 | 4 |
| Dundee Stars | 3 | 1 | 1 | 2 | 2 | 0.3 | 5 | 9 |
| Fife Flyers | 2 | 0 | 1 | 1 | 2 | 0.5 | 6 | 7 |
| Glasgow Clan | 2 | 0 | 0 | 1 | 1 | 0.3 | 5 | 7 |
---
Words: Patrick Smyth      Pictures: PressEye   Audio: Simon Kitchen / Joel Neill / A View From The Bridge