The SSE Arena crew had an impressive turnaround overnight, going from a sensational sold out, beer soaked, Gerry Cinnamon gig Friday to a clean sheet of ice and tonight's clash between your Belfast Giants and the Coventry Blaze.
In fact, they had done such a good clean up job that the only remnant of Gerry Cinnamon in the entire arena was my absolutely unrelenting hangover.
Worth it.
FIRST PERIOD: David Broll Hid Behind Two Referees Pass It On
Jean Dupuy utterly dropped the boom on Coventry's Johnny Curran only 15 seconds into the game. Curran, lying prone in the Giants zone, was eventually helped off ice by Coventry's trainer.
Liam Morgan, Ben Lake and Lewis Hook went on the rampage in front of goal minutes later, combining for two grade A chances which were turned away by Blaze netminder Jamie Phillips.
Belfast got a little loosey goosey in the middle of the period- forced to kill back to back penalties (Dupuy interference, Pelech kneeing), but survived against the odds. Like me. With this hangover.
Lewis Hook buzzed into the Blaze zone with six minutes and change left in the period, playing a neat pass to Ben Lake who pulled the trigger from mid slot- sending the arena to its feet. (1-0)
David Broll picked the worst possible guy to mess with off a draw in the Blaze zone, when an interference penalty on Jean Dupuy caught the attention of one Bobby Farnham. Farnham, ever the diplomat, pictured Broll's head mounted as a trophy over his fireplace and skated off in search of his prize.
To Broll's credit, he did twitch his gloves in response… once there were two referees between him and Bobby 'Big Game Hunter' Farnham. A tough look.
Good thing for Johnny Curran: Johnny Curran had returned to the game following his earlier injury scare.
Bad thing for Johnny Curran: Johnny Curran sent Belfast onto the power play with an interference call to close out the period.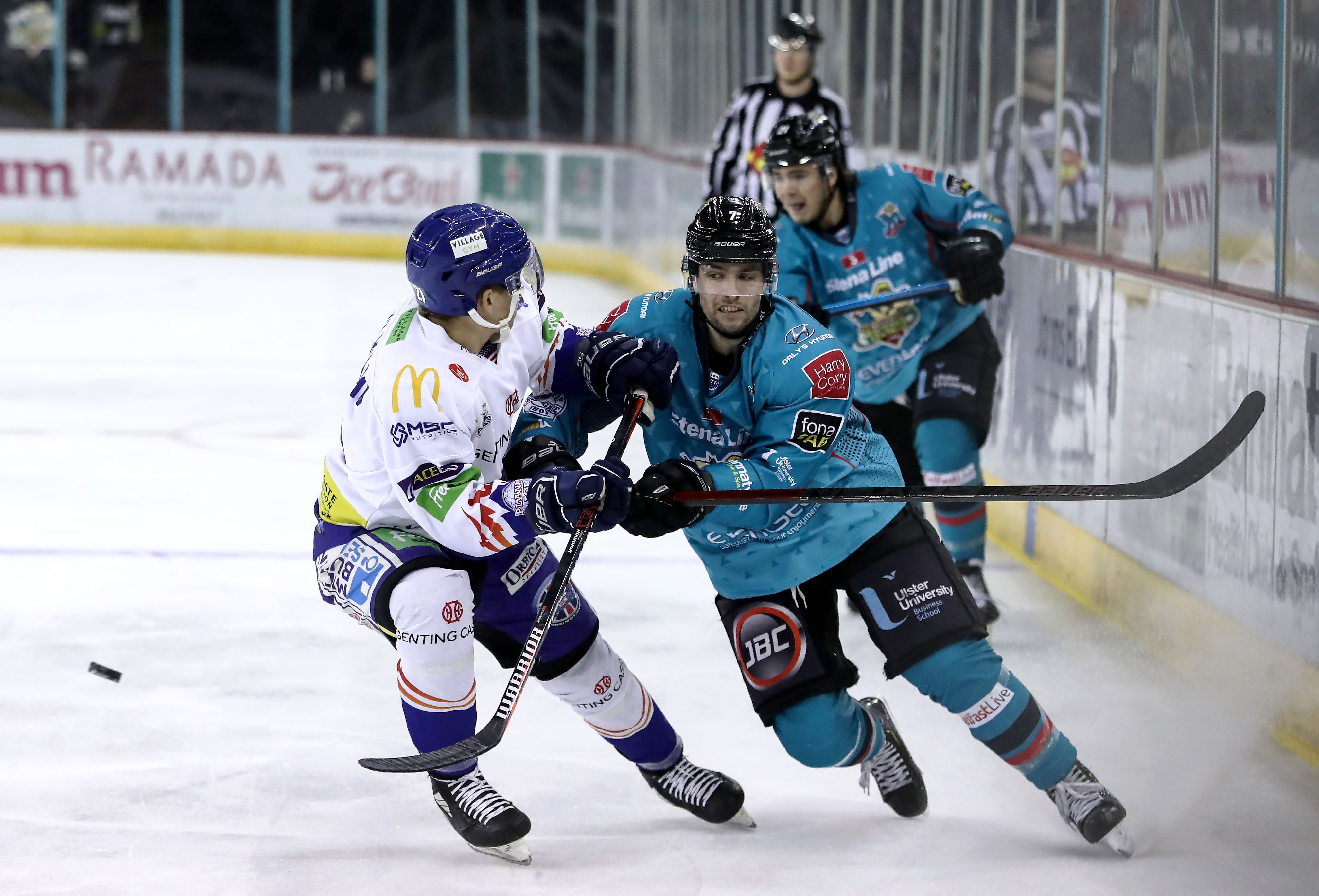 SECOND PERIOD: Still Hungover
Jean Dupuy had unfortunately failed to reappear since his coming together with Broll in the first.
Lewis Hook continued a productive evening, pulling the puck back from the right hand side of the crease into the path of Brian Ward who finished in sublime fashion, roofing the puck past Phillips at 27.21. (2-0)
Coventry responded immediately with an emphatic finish of their own, when Dillon Eichstadt's shot from the left hand circle got a precision tip from Matt Pohlkamp- leaving Shane Owen with no chance. (2-1)
Belfast padded the scoreline with just under four minutes left in the period, when Patrick Mullen (a welcome return to the Giants lineup) fed Brian Ward mid slot, who sent it on to Jordan BIG SMOOOOOTH Smotherman for a scrappy finish past a desperate Phillips. (3-1)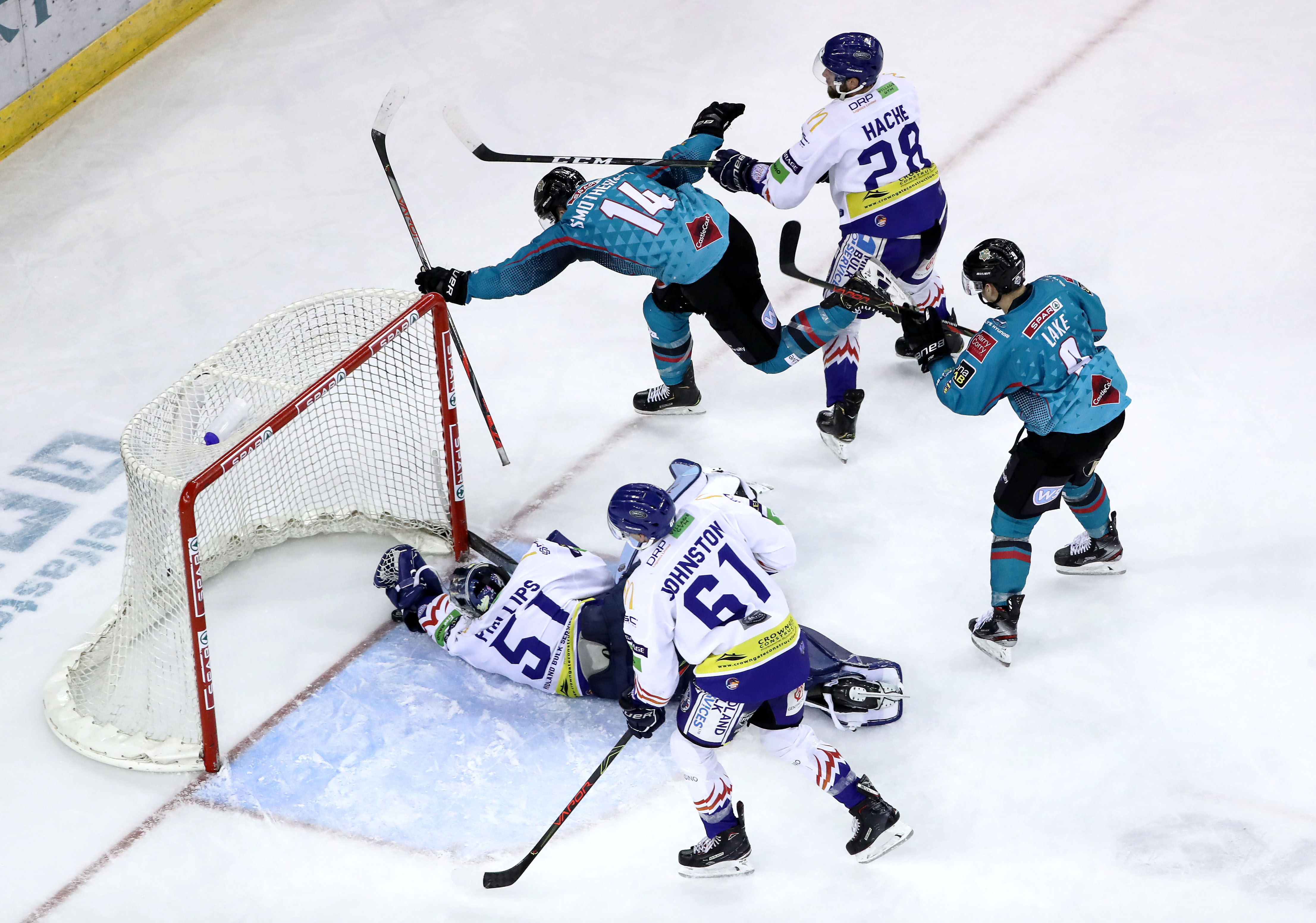 Because no end-of-period in the SSE is complete without someone taking a penalty, Captain Matt Pelech took his turn- heading to the box for interference at 38.38.
THIRD PERIOD: Go Shorty
Belfast found themselves a man short seven minutes into the period, following a Paul Swindlehurst interference call.
Not deterred by the penalty kill, Bobby Farnham and Kevin Raine spent a while terrorising Jamie Phillips in the Blaze goal, coming a whisker away from a shorthanded goal.
This didn't sit well with Ben Lake and Curtis Hamilton, who combined for the Giants' fourth, shorthanded, at 47.35. There's nothing in hockey that says "we are, as a team and as people, better than you- and it's very important that you feel bad about it" quite like a shorty. You love to see it. (4-1)
Adam Keefe called a timeout with nine minutes left in the game. Presumably to laugh about the shorty.
From here, in all honesty, the Belfast Giants coasted to a finish. It was the type of confident, comfortable win that lays the foundations of a championship contending team.
Having never really needed top gear tonight, you can only hope that there's plenty in the tank for another battle against the Blaze at the Skydome tomorrow.
AVFTB POST GAME INTERVIEWS:
Kevin Raine: "that dangle [on Wednesday] wasn't an accident though…"
"It was a poke check is what it was! And we all know I can do that…"
Ben Lake: "If you're not up for it, then you probably shouldn't be here."
---
Words: Joel Neill
Audio: Joel Neill / AVFTB
Images: William Cherry / PressEye