Denying that a "rivalry" exists between two clubs is one of the easiest chirps in the EIHL. The dismissal of another team's hatred towards you has long been used to get one up over opposition fan bases. And to be fair, despite being unoriginal, it works. It riles people up.
But set down your cold turkey. Stop drinking that gravy. Lean in and listen.
The Belfast Giants and Glasgow Clan- at Christmas– is a rivalry.
Glasgow had travelled well, with a packed block in fine voice ahead of warm ups at the SSE.
There was little doubt that Belfast would return the favour tomorrow in the return fixture across the Irish Sea. This tit for tat fan battle has been going on for a number of years now, with the home and away series between the two sides now something of a festive tradition.
It gets heated on ice and off. It isn't really Christmas until the Giants and Clan have exchanged barbs on Twitter. You simply love to see it.
FIRST PERIOD: F-T-Season's Greetings
Stephen Murphy was given the nod in goal as a huge crowd settled in for a critical game. The Giants home form of late has been less than stellar, and a big win would go a long way in re-establishing some momentum. Not to mention pacifying a passionate but frustrated Teal Army.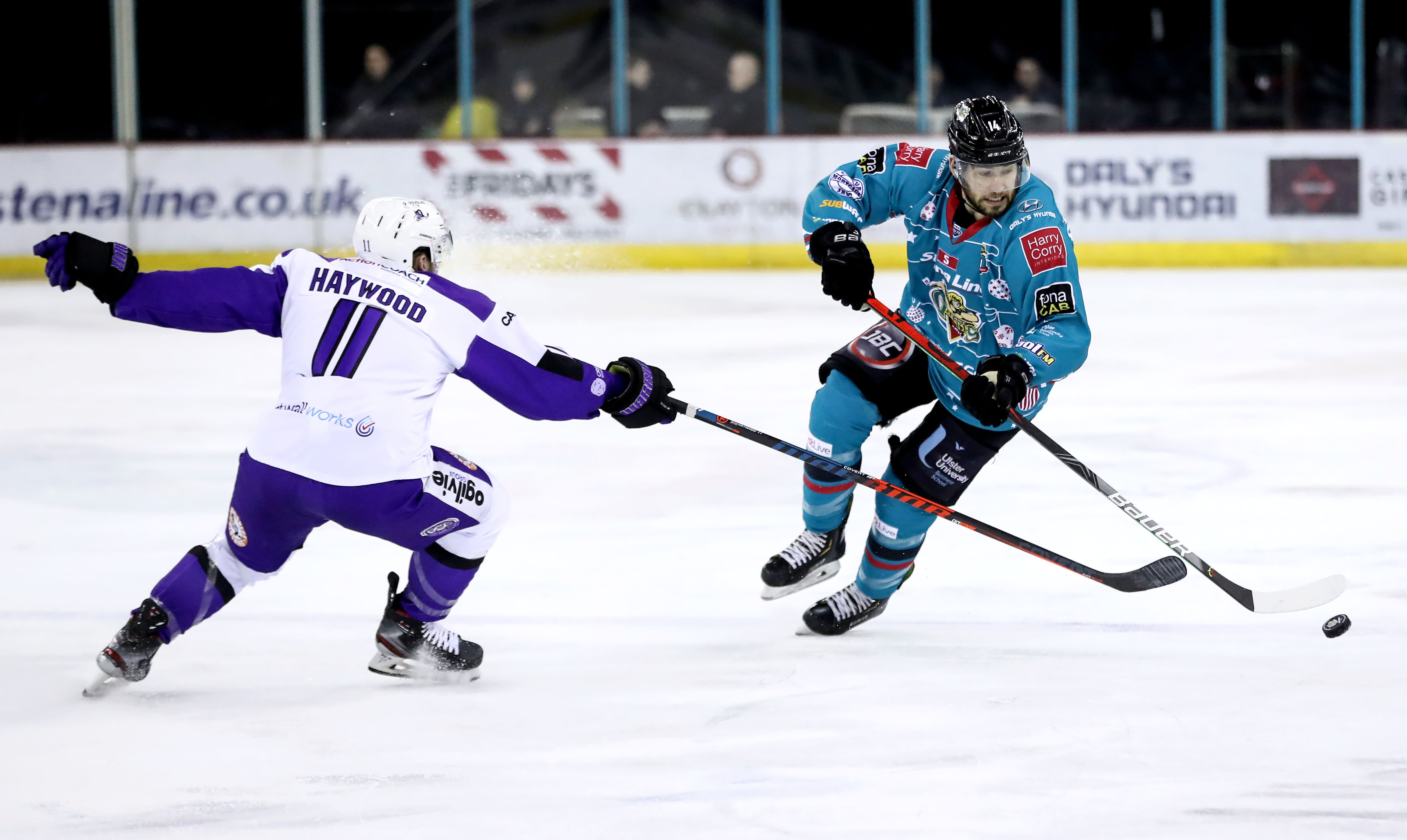 The opening five minutes was a wall of noise from the stands, accompanied by duelling drums from opposite corners of the SSE.
Liam Morgan had the first big shout of the game, snapping a sharp wrister from the left circle which Patrick Killeen met with his glove.
Belfast persisted with their forecheck, pressing high and spending a lot of the opening ten minutes in Glasgow's zone- pestering Killeen and looking very much the more dangerous side.
Captain Matt Pelech headed to the box with just under six minutes remaining in the period, for what looked like a pretty soft elbowing call in the Giants zone. The kill was a welcome reprieve for Killeen- who had been nothing short of peppered so far.
Glasgow, to their credit, were strong on the cycle- threatening Stephen Murphy with a number of grade A chances. A sprawling Murphy, however, was more than a match.
With 3:13 left in the period, Belfast's pressure paid off when Rickard Palmberg bagged his first goal for the club- battling his way down the slot and holding fire for an eternity, dummying pretty much everyone with a delayed thunderbolt that sent the home crowd wild. (1-0)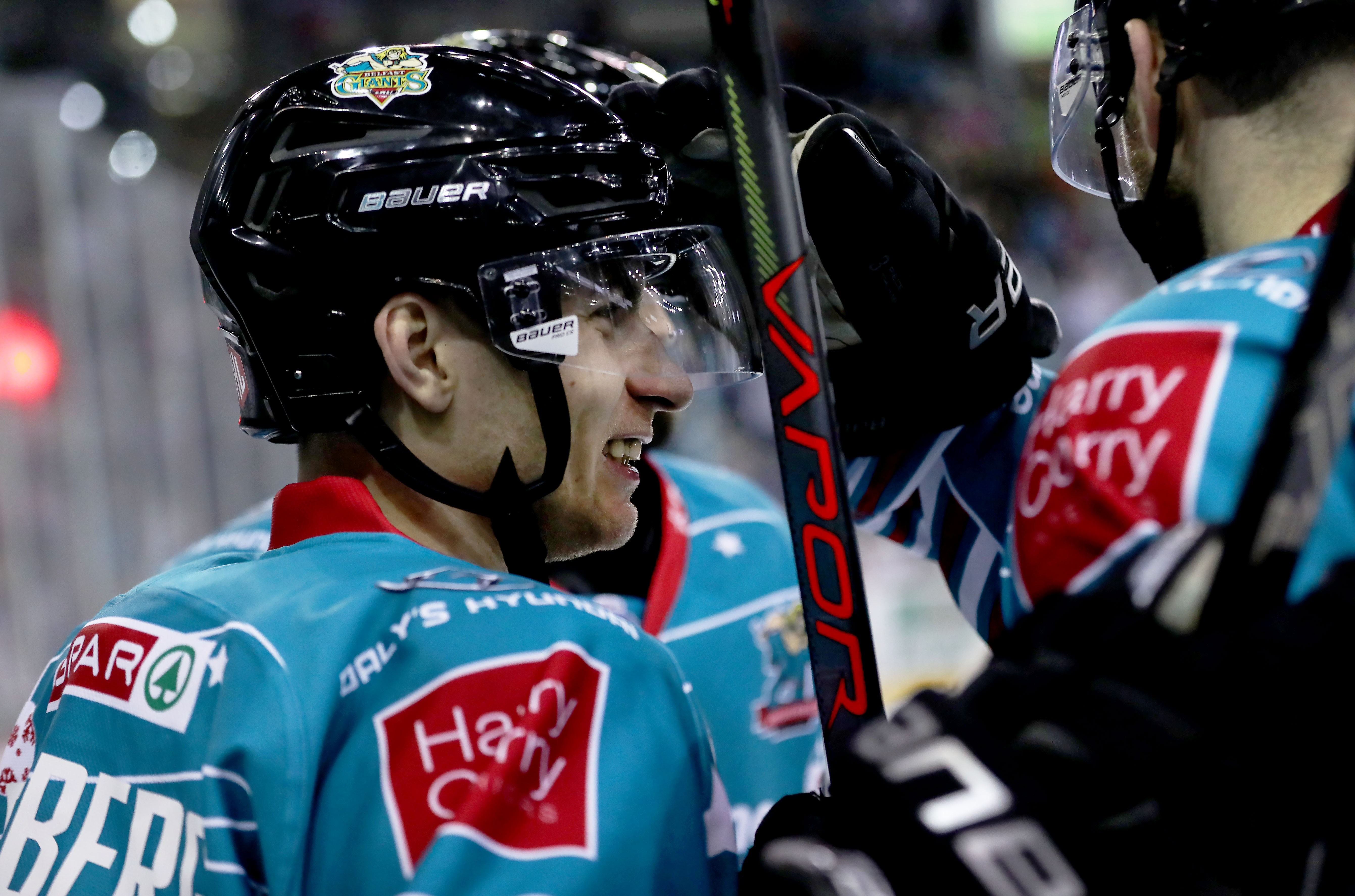 SECOND PERIOD: Swede Caroline
Curtis Hamilton was denied on the breakaway in the opening seconds of the period, picking up right where Belfast had left off in throwing pressure forward.
Rickard Palmberg continued a fine evening at the office- hammering the puck off Killeen's crossbar from mid slot on the power play five minutes in. The puck was a mere inch away from going bar down and doubling the home side's lead.
Palmberg was right in the mix moments later, keying up fellow mid season signing Elgin Pearce for a hard earned, physical goal on the edge of the crease at 28:22. (2-0)
But friends, like a primary school kid at break time, Rickard Palmberg is not content with apples.
The Swede continued a breakout night with a beautiful snipe from the top of the right circle at 30:39- the puck sailing into a glimmer of daylight past Killeen on his near post. (3-0)
Stephen Murphy was fearless in the Giants goal as the period wound into its final five, making a string of sprawling, athletic saves.
I feel like I've said this before… but Killeen's misery was far from over. Liam Reddox unleashed a bullet from the blue line which caught the stick blade of Bobby Farnham, sending the puck in off the cross bar at 36:54. (4-0)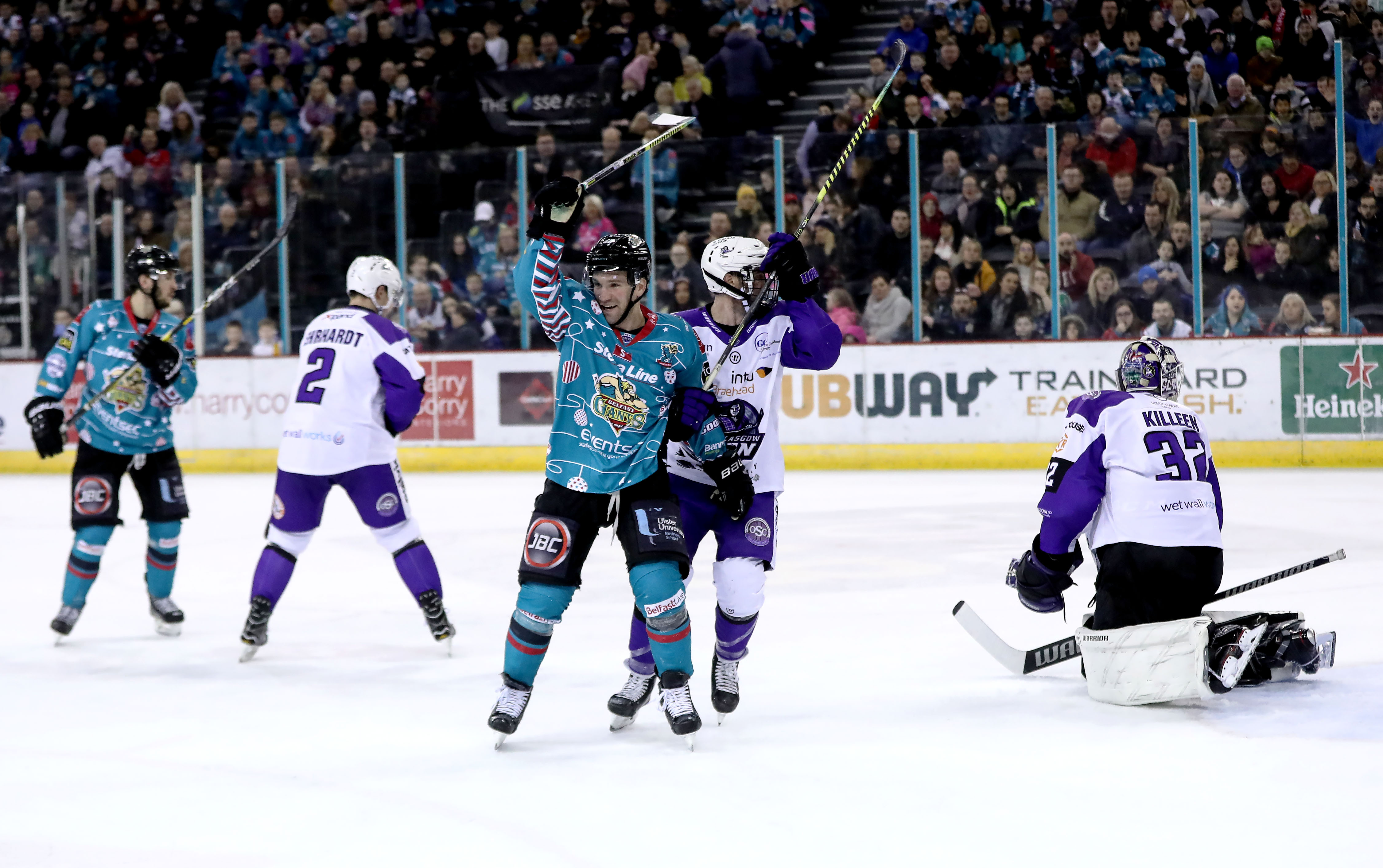 Elgin Pearce's almost added a fifth on a clean breakaway, unfortunately sending the puck straight into Killeen's chest in the dying minutes.
As the players left the ice, a representative from Glasgow City Council arrived, out of breath, to declare Rickard Palmberg their new lord mayor. Jury is out on if he'll be able to score goals wearing a gigantic gold chain. Smart money says yes.
THIRD PERIOD: FIVE PAST KILLEEN
At 41:47, Palmberg's hat trick was complete. A beautiful solo move through the zone led to a skilful dangle past Killeen. The ovation, and flying hats, the Swede received were testament to an all-time performance. (5-0)
Special mention to the unnamed delegate from Boomerang Corner (John 'Smit' Smyth), who arrived at the plexi with a staggering number of Christmas themed hats, frisbee-ing them onto the playing surface one by one like Gambit from the X Men to roaring applause.
Jordan McLaughlin, once again, took over in goal shortly after- looking to see out the final ten minutes.
Elgin Pearce and Nolan Laporte dropped the gloves behind Stephen Murphy in a short but vicious fight, following a pile up in the crease. Belfast ended up with a 5 on 3 for a time, ringing the post before the sides returned to 5 on 5.
Murphy's shutout was denied with 4:54 left in the game, when Scott Jacklin found the net from close range. (5-1)
With the game entering its final three minutes, Ben Lake was still forechecking his skates off, landing two huge hits deep in Clan territory. Big fan of that.
Goal scorer Jacklin earned himself two for a faceoff violation at 57:22, sending Belfast onto the power play to all-but close this one out.
As the home side cycled, the crowd lit up- cheering their side home in an emphatic win over Zack Fitzgerald's Glasgow Clan. Much needed dominance on home ice.
Same again tomorrow?
AVFTB POST GAME INTERVIEWS
Adam Keefe: "We'll keep in mind the six games we have in ten days… making sure we get the most out of the guys and manage the bodies correctly."
Rickard Palmberg: "I thought I was going to have the fourth there, too!"
---
Words: Joel Neill
Audio: Joel Neill / AVFTB
Images: William Cherry / PressEye